Allium Hush Puppies with Shrimp,Jalapenos and Lemon Scallion Aioli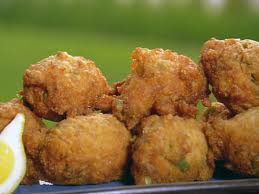 Author Notes: Raised in a Coastal Southern household, we always got excited when Spring finally came because we knew mom would be making these. I've made them spicier and more oniony and added the aioli (it was butter butter butter back then!) - LE BEC FIN
Makes about 20
1/2

cup minced ramp bulb ( or shallot) plus a little chopped greens

2-3

large jalapenos, frozen, or less of fresh, minced

¼

cups minced scallion, green and white parts

2

tablespoons hot melted bacon fat

1

teaspoon minced garlic

1/4-1/2

pound shrimp,frozen, shell-on; defrosted, shelled and chopped

2

cups cornmeal, Indian Head or stoneground fine cornmeal,

6

tablespoons Powdered buttermilk

1

tablespoon AP flour

1

teaspoon Baking powder

2

teaspoons kosher salt or smoked salt

1 1/2

cup boiling water

2

tablespoons hot melted bacon fat

1

large egg, lightly beaten

Cayenne to taste
Sautee ramp through garlic in hot bacon fat over medium hot heat til translucent but not browned(3-5 minutes). Add shrimp and saute a few minutes til just barely opaque.Cool and chop roughly.
Combine cornmeal through salt. Pour boiling water over dry ingredients and stir well.Add hot bacon fat.Add egg. Add more cornmeal if needed to get thick batter ( not runny.) Taste; add salt and more jalapeno or cayenne to taste.
Heat canola oil to 375 degrees. Using 2 soupspoons or tablespoons, scoop about ¼ c. of batter. Holding it above the oil, scoop it out quickly into the oil w/ second spoon. Repeat to fill pan, leaving some space between hushpuppies.Do not crowd them. Fry 4-5 minutes til medium brown, drain on double paper towels over newspapers . Salt generously. Keep warm . Serve plain or w/ soft unsalted butter.
Optional Lemon Scallion Aioli: Combine in a mini processor: 1 large egg yolk, 1 minced garlic clove, 1/8 cup lemon juice,1/4 teaspoon dijon mustard, kosher salt and fresh coarsely ground black pepper. With processor running, drizzle in 3/4 cup canola oil. Remove and stir in 3-4 Tablespoons minced greens from scallions or any alliums.
Note: *These don't do very well reheated, probably because they are almost 100% cornmeal.( Those lighter hushpuppies made with more flour- reheat fairly well.) Best served within an hour or 2 of frying.