Vietnamese Mango and Chicken Salad
24
Save
If you like it, save it!
Save and organize all of the stuff you love in one place.
Got it!
If you like something…
Click the heart, it's called favoriting. Favorite the stuff you like.
Got it!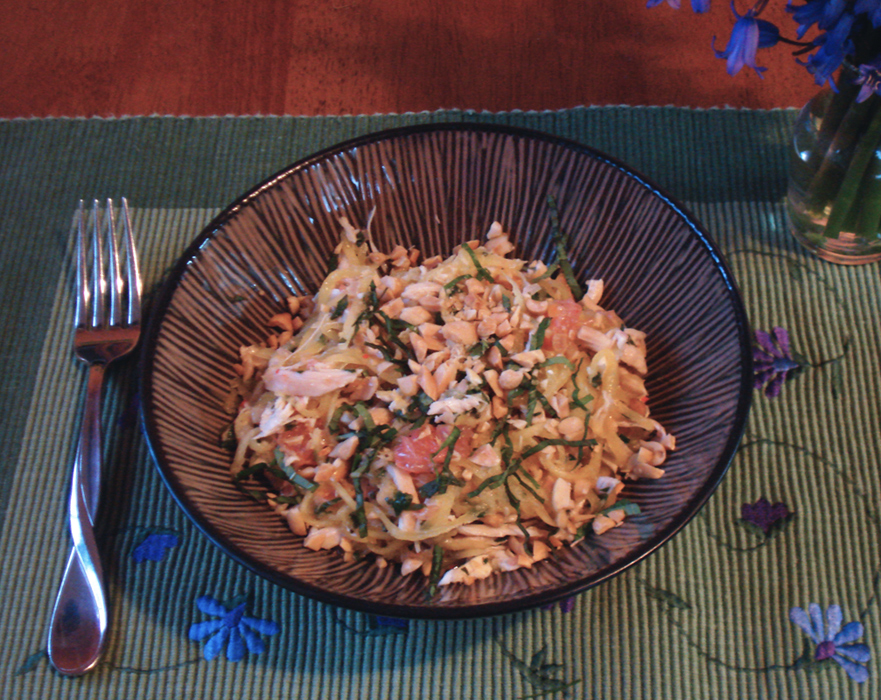 Author Notes: This salad is my riff on a banana flower salad I've had at a local Ph? restaurant. The banana flower has a slightly bitter and astringent quality. It's julienned in the salad and combined with shredded chicken and pink grapefruit. The whole dish is dressed with a tangy and herbaceous dressing, and it makes a sprightly accompaniment to a bowl of ph?. I wanted to make a similar salad using green mango. Green mango is tart but not bitter, and has just a little astringency; with a little tweaking of the flavor balance of the dressing it works beautifully in this salad. The result is a fresh and lively dish that's perfect on its own as a light meal or paired with a Southeast Asian curry or noodle dish.
- hardlikearmour
Serves 2 to 4
Salad
2 boneless, skinless chicken breasts, about ¾ pound

1 tablespoon peanut oil, plus additional for brushing chicken breasts

1/3 cup mint leaves, lightly packed

1/3 cup thai (or regular) basil leaves, lightly packed

¼ cup rau rum leaves*, lightly packed

water

ice

1 teaspoon kosher salt

1 large pink grapefruit

2 firm (unripe) mangoes

¼ to 1/3 cup chopped roasted peanuts

Additional mint, basil, and/or rau rum for garnish (if desired)
Dressing
2 tablespoons minced shallot

3 tablespoons lime juice

1 tablespoon fish sauce

1 tablespoon palm (or brown) sugar

1 Thai red chile, seeded and finely minced

¼ teaspoon freshly ground black pepper, plus additional to taste

¼ teaspoon kosher salt, plus additional to taste
*Rau rum is a Vietnamese herb, that has oblong leaves marked with a chevron shape (sometimes subtle, so look closely). It can be found in Asian markets and has a fresh, grassy, cilantro-like flavor. It can also be called laksa leaf or Vietnamese mint. If you can't find it just add additional mint and basil to the recipe or use cilantro instead.
Place an oven rack about 6 inches below the broiler, and preheat the broiler. Pat the chicken breasts dry, and coat them with peanut oil. Place on broiler pan. Broil on first side for 6 to 8 minutes, until they are lightly browned. Flip and broil on the other side for an additional 4 to 8 minutes, until the internal temperature at the thickest part is 160-165º F. Remove chicken breasts to a plate, and allow to cool to room temperature.
Set up a bowl of ice water near the sink, making sure your strainer will nest in it. Bring 1 quart of water with 1 teaspoon kosher salt to a boil. Add the mint, basil, and rau rum, and stir to make sure all the leaves get wet. After 15 seconds drain the herbs into the strainer, and set the strainer in the ice water. Blanching the herbs will help them to keep their bright green color. Remove the strainer from the ice bath, and squeeze the excess water from the herbs. Mince the herbs and place them in a medium bowl. Add 1 tablespoon peanut oil, and mix well. Set bowl aside.
In a small bowl (one your strainer can nest in) combine shallot, lime juice, fish sauce, sugar, chile, black pepper, and salt. Set strainer over the bowl. Supreme the grapefruit (see A&M's video here: http://www.food52.com/blog/1664_how_to_segment_and_slice_an_orange ) into the strainer, so you catch the juice. Squeeze the membrane to extract as much juice as possible. Set aside.
Using a sharp paring knife peel your mangoes. Use either a julienne peeler (preferred) or the large holes on your box grater to carefully remove the flesh from the mango. Julienne/grate the mango into the bowl with the herb mixture. Toss with a fork to thoroughly mix. Add the grapefruit segments, but don't toss yet.
Using 2 forks, shred the chicken into fine shreds. Whisk the dressing and taste for balance – it should be mildly tangy, just a bit sweet, and fairly salty. Add the chicken to the dressing and toss well to coat.
Dump the chicken and dressing into the mango mixture. Toss well to combine. Break the grapefruit up into chunks as you mix. Allow the salad to rest for at least 15 minutes and as long as an hour to allow the flavors to meld. When ready to serve, taste and add salt or pepper as needed. Add about half of the chopped peanuts and mix well. If adding additional herbs as garnish, chiffonade desired combination of the mint, basil, and rau rum. Plate the salad, and garnish with the remaining peanuts and herbs.