35
Save
If you like it, save it!
Save and organize all of the stuff you love in one place.
Got it!
If you like something…
Click the heart, it's called favoriting. Favorite the stuff you like.
Got it!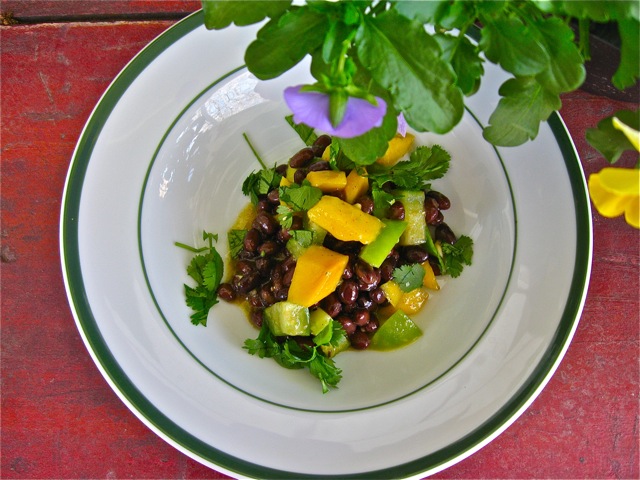 Author Notes: Mangos merit every bit of reverence accorded them. High in vitamin A and antioxidants, they also pack a decent dose of fiber. Combine them with beans and their perfection only grows. Combine them with black beans in particular, and the natural beauty of their flesh glistens. Serve this salad by itself, or as a dip with vegetables like sticks of jicama. Add spoonfuls to some shredded red cabbage and wrap it all up in a whole grain tortilla for a lovely Meatless Monday lunch. - boulangere
Serves 4 to 6
2 big fat red-ish mangos, peeled, fruit removed, 1/2" dice

15 ounce can black beans, drained and rinsed

1 large avocado, 1/2 " dice

2 medium or 3 small tomatillos, 1/2" dice

1/2 red onion, 1/4" dice

Zest and juice of 1 lime

1 teaspoon sea or kosher salt

Grinds of black pepper

1/3 cup olive oil

1/4 cup cilantro leaves and stems, roughly chopped

Cholula, or your favorite hot sauce, to taste

Chopped cilantro and lime wedges for garnish
Combine mangos, black beans, avocado, tomatillos, and red onion in a salad bowl. Toss gently to blend.
Add lime zest and juice,salt, pepper, olive oil, and cilantro leaves in a blender, food processor, or mini-chop. Process to blend. Season to taste with hot sauce. Adjust other seasonings as necessary. Pour dressing over salad ingredients and toss to blend. Let salad sit for 15 minutes to allow flavors to blend. Taste again and adjust seasonings if needed.
Serve on chilled plates. Garnish with chopped cilantro.
Jump to

Comments

(

14

)