Chocolate, Mango and Almond Croissant Bread Pudding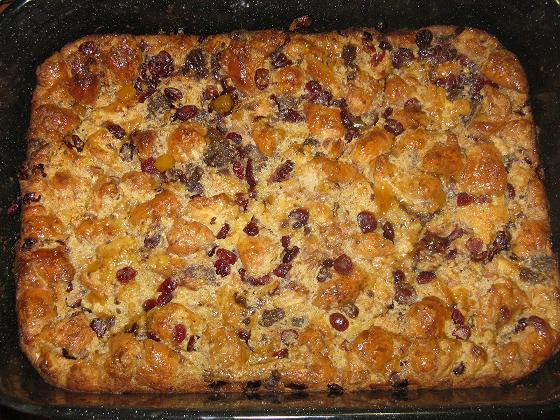 Author Notes: Flaky buttery croissants, almond paste, dark chocolate bits, soft mango cubes, toasted almonds, all bound with a brandy custard. While this is a very rich dessert (noooo, really?!) the tangy mango really helps with the flavor balance. When it follows the clean bright flavors of an Asian dinner, this dessert decadence makes for a well balanced evening. - LE BEC FIN
Serves 8-12
6

Trader Joe's Almond Croissants (or plain )(20 ounces) cubed

6-12

ounces bittersweet chocolate, 72% preferred (Trader Joe's bar is excellent)

1

cup Toasted almonds, roughly chopped

4-8

ounces almond paste, chopped

6

large eggs

2

large egg yolks

1 1/2

cup heavy cream

2 2/3

cups whole milk

1/2

cup brandy

2

teaspoons vanilla

1/2

teaspoon kosher salt

2-4

tablespoons cold unsalted butter, chopped
Cube croissants, spread out on sheet pan and air dry for a day, or toast lightly in 250 degree oven ½- 1 hr..
Spread croissant cubes evenly in a buttered or non stick sprayed 9 x 12" non-metallic baking dish. Distribute almonds, chocolate, almond paste and mango in the pan. Whisk egg yolks and eggs til combined, add liquids, sugar and salt. Pour over the dish, pushing down on the croissant mixture. Dot with butter. Cover and chill 1 -24 hours.
Bake at 350 degrees, 40 minutes until lightly browned and custard is set. Cut and serve as is or napped with vanilla crème anglaise.
Notes: Substitute for additions (nuts, fruit, chocolate, brandy) or milk for cream as you like. I also really like my version using chocolate, almonds, almond paste, dried cranberries or dried sour cherries, and candied orange peel.
Note: This freezes well.
Jump to

Comments

(

1

)