Mango and Quinoa Chopped Salad with Ancho-Mango Dressing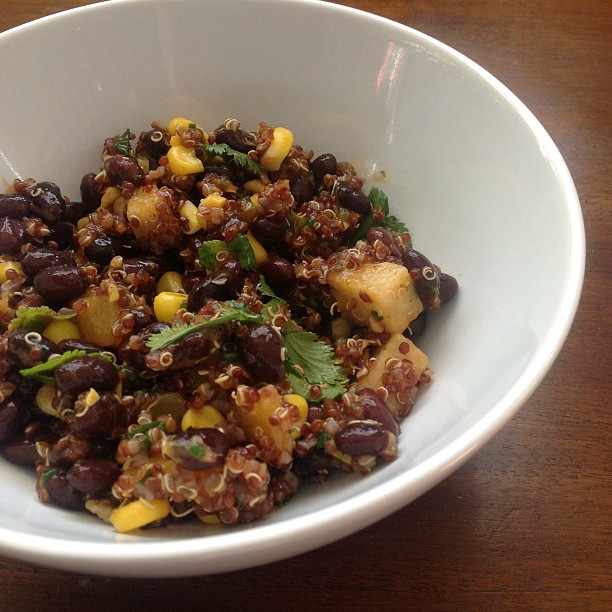 Author Notes: This recipe is brought to you by: Cinco de Mayo party leftovers! I love, love, love cooking Mexican food so I always use Cinco de Mayo as an excuse to not only drink enthusiastic amounts of margaritas with freshly-squeezed lime juice but also to dive into a new Rick Bayless recipe (this year it was his sublime Simple Red Mole Enchiladas from one of my very favorite cookbooks, "Rick Bayless's Mexican Kitchen").

The other inspiration came from the sudden abundance of Haitian mangoes appearing at my nearest Whole Foods (and probably yours, too!). These mangoes are sweet and deliciously floral and are also Whole Trade certified. This recipe would work with just about any mango you can get your hands on - just make sure to buy one that's medium-ripe and one that's very ripe (one for dicing and one for blending).

Although this salad is by no means authentic, it makes excellent use of the fresh, vibrant flavors of Mexican cuisine. The sweet, mellow crunch of jicama lends a wonderful contrast to the soft, juicy mangoes and the ancho-infused quinoa and beans add a gentle, fragrant spice to the dish. The dressing is a luscious, thick concoction of ancho chiles and mangoes with lots of vibrant, bright-tasting cilantro and tangy lime juice. If you are like me and you like to dress your salads lightly, you can use the leftover dressing to marinate pork or fish, or you can add some chopped onions, jalapeno and diced mango to make a tasty salsa! - CounterCultureCuisine
Serves 6
Mango, Black Bean and Quinoa Salad
1

cup dried black beans

2

dried ancho chiles

1/2

cup red quinoa

a dash of chile powder

1

cup diced medium-ripe mango (1 large mango)

1 1/2

cup diced jicama

1

cup corn kernels (fresh or frozen)

1/2

cup sliced green onions

1

cup cilantro leaves, stems reserved for dressing

juice of 1 lime

salt to taste
Ancho, Mango and Lime Dressing
1

ripe mango

1/2

cup leftover cilantro stems, loosely packed

2

garlic cloves, chopped

2

tablespoons rehydrated ancho chile, seeds removed and chopped (use the chile from the beans or quinoa)

1/4

cup freshly squeezed lime juice (about 4 small limes)

splash of tequila (optional)

salt to taste
In a medium pot, cover the black beans with several inches of water and add the dried chile. Bring to a boil, then simmer until beans are tender (about 1 1/2 hours, or 8-10 minutes in a pressure cooker). Drain the beans and remove the chile. Season with salt and set aside.
Meanwhile, in a small saucepan cover the quinoa with 1 cup of water and add the other ancho chile. Bring water to a boil, then reduce to a simmer, cover and cook until all the liquid is absorbed, about 20 minutes. Season with salt and a dash of chile powder, fluff with a fork and allow to cool.
Assemble the dressing: combine all the ingredients in a blender and puree until smooth. Combine the beans, quinoa and remaining salad ingredients in a large bowl. Add desired amount of dressing (I used all but about 1/4 cup for a lightly-dressed salad) and toss well to combine.