18
Save
If you like it, save it!
Save and organize all of the stuff you love in one place.
Got it!
If you like something…
Click the heart, it's called favoriting. Favorite the stuff you like.
Got it!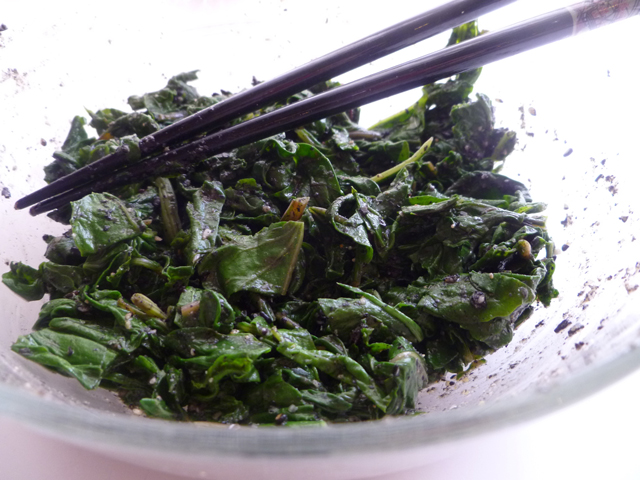 Author Notes: I love the Japanese appetizer of spinach gomae, with a nutty sweet and salty sauce for just blanched greens. Lately I've been experimenting with using the same sauce on other greens, and I almost like it more with the sharp and bitter greens of baby turnips. - Fairmount_market
Serves 2 as an appetizer
1

bunch turnip greens (or beet greens or spinach)

2

tablespoons roasted black sesame seeds

1 1/2

teaspoons sugar

1

tablespoon mirin

1 1/2

tablespoons light soy sauce
Smash the sesame seeds into a paste using a coarse mortar and pestle (a Mexican molcajete works well for this) or a spice grinder. Mix in the sugar, rice wine, and soy sauce.
Boil a pot of salted water and prepare a bath of ice water. Rinse the greens, discard any wilted or discolored leaves, and trim off the thick stems. When the water is boiling, submerge the greens into the water for just under a minute and then quickly drain and toss into the ice water bath.
Wait a minute and then drain the cooled greens, wringing out excess water. Lay the greens on a cutting board. Chop the greens into 1 inch strips. Toss with the sesame sauce and serve.