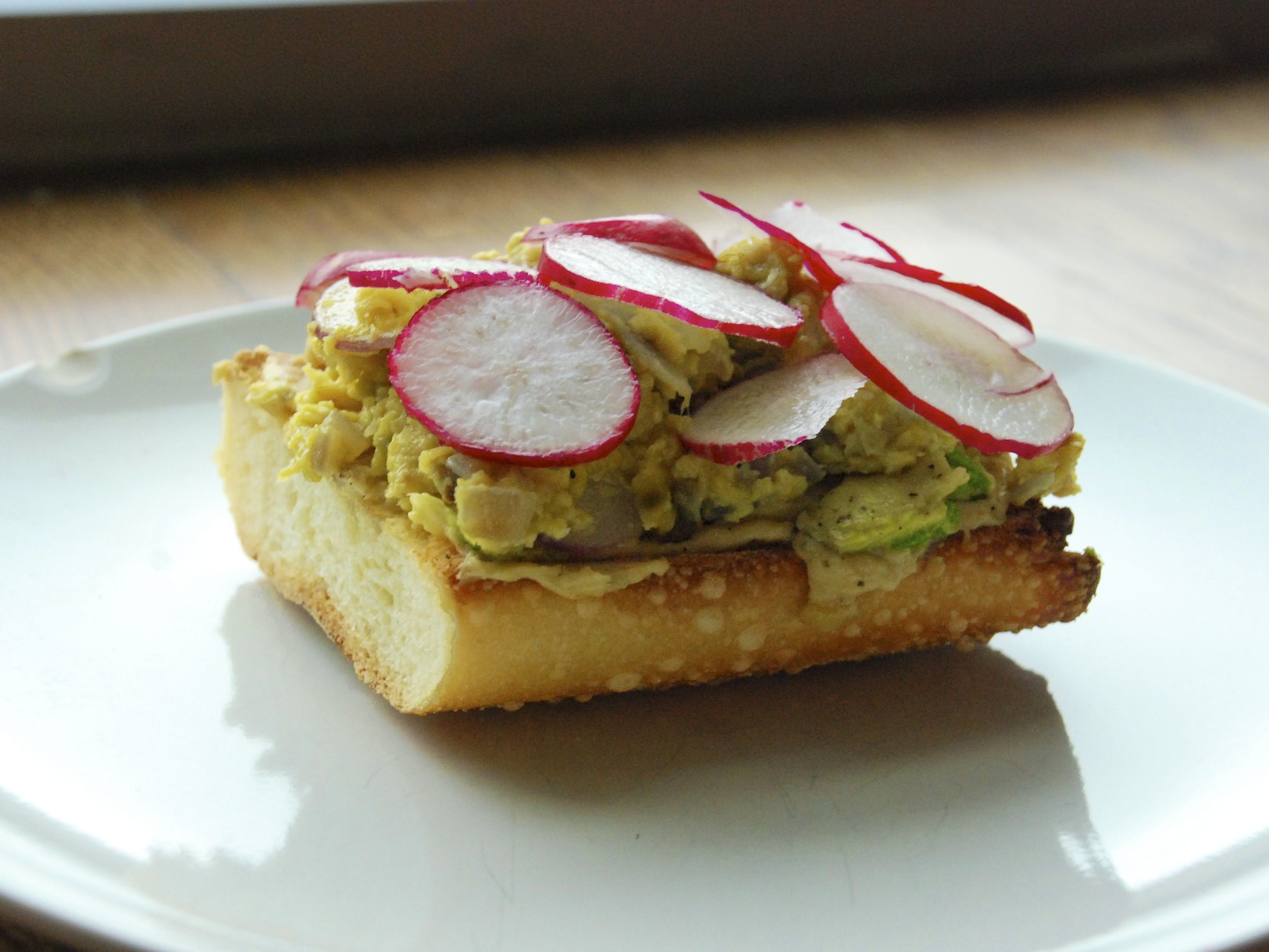 Author Notes: Ok, so admittedly this isn't so much a set-in-stone recipe as a vehicle to use up the leftovers in my fridge. Still, it incorporates some of my favorite ingredients: crunchy baguette, spicy radishes, soft, fresh scrambled eggs, avocado, sea salt and hummus. It makes for a quick and tasty brunch or lunch. - cristinasciarra
Serves 2
1/2 a small red onion

a small bunch of radishes

sea salt, black pepper

4 eggs, as fresh as possible

about 4 inches of a baguette, split in half

1/4 cup hummus

1/2 an avocado
Finely mince the onion. Wash and dry the radishes, and then cut them crosswise into slivers.
Set a well-seasoned pan over medium heat. Add the onion, and cook until translucent.
Meanwhile, crack the eggs into a bowl. Whisk the whites and yolks together, and sprinkle with a little salt and pepper.
When the onion is almost finished cooking, add half of the radishes. Cook for a minute or two. Lower the heat to medium-low, and add the egg. Let the egg cook low and slow, whisking as they cook.
Meanwhile, toast the baguette halves.
Remove the eggs from the heat when they are almost finished cooking; the residual heat will finish them off.
Swipe the still-warm baguette halves with the hummus. Add the avocado next, either in strips, or mashed into the hummus. Sprinkle each toast with sea salt and pepper.
Add the scrambled eggs next. Finish each toast with a topping of the remaining radish slivers.
Jump to

Comments

(

1

)