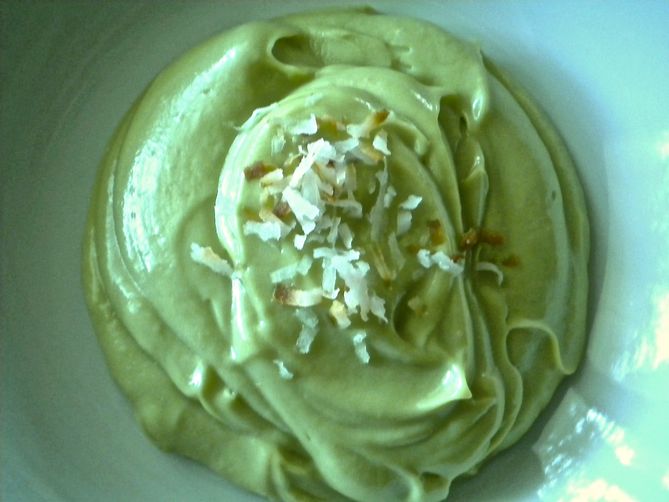 Author Notes: Just a few ingredients in a blender make up this creamy summer dessert. Avocado and coconut mixed with lime and honey take you where you might want to be this summer. And it's soooo easy!! - inpatskitchen
Makes about 4 cups (4 to 6 servings)
3

small to medium Haas avocados

Juice of 1/2 of a large lime

3/4

cups half and half or light cream

One 15 ounce can cream of coconut (the thick sweetened kind)

1/4

cup honey

1/2

cup sweetened flaked coconut
Place the avocado meat, lime juice and half and half in a blender and begin pureeing. Once the avocado is fairly pureed (you may have to stop and scrape down the sides of the blender once or twice) add the cream of coconut and honey and puree until smooth. Remove mixture from blender and place in a bowl. Cover and refrigerate for at least an hour before serving.
While the pudding is chilling, toast the coconut. Spread the coconut flakes on a small baking sheet and bake in a preheated 350F oven for about 5 minutes.
To serve, scoop some of the pudding into small dessert dishes topped with a little of the toasted coconut.