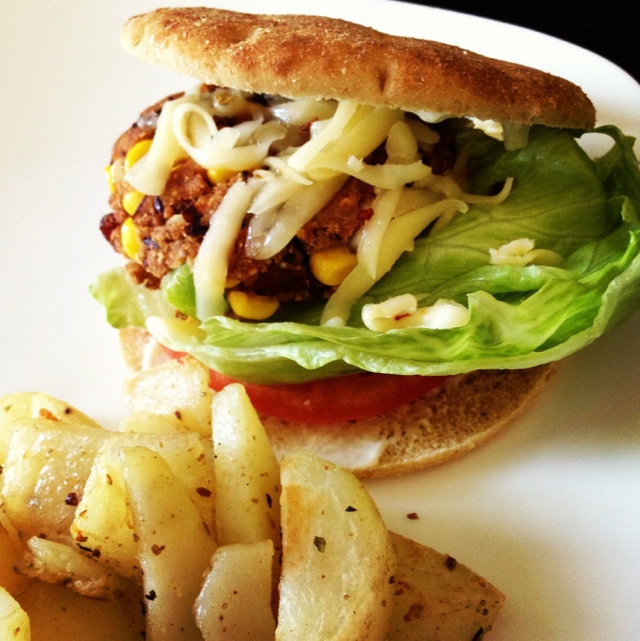 Author Notes: My cousin's wife is a great cook and she is really good at Indian fusion recipes. She shared this black bean burger recipe with me and it's one of our favorites! I tweaked it a bit for my taste. - themessimake.com
Serves 3-4
Baked Fries
2

medium Russet or Red potatoes

sea salt, to taste

black pepper, to taste

1/4

teaspoon Oregano or any other herb of your choice
Pre-heat the oven at 375° F.
Cut potatoes into 1/4 inch thick slices.
Rinse potatoes and put them in a big pot of lightly salted cold water. Bring water to boil and cook potatoes for 5-7 minutes.
Remove potatoes from water, place them on paper towels and dry them completely. 5. Drizzle some extra virgin olive oil and toss potatoes carefully.
Transfer the potatoes on a lightly greased baking sheet.
Bake for 10 minutes, then toss the potatoes and bake for another 5-10 minutes until the potatoes are crispy.
Sprinkle salt, pepper, oregano.
Black Bean Burgers
1

can black beans

1

can red kidney beans

1

small canned corn

1/2

finely chopped green bell pepper

1/2

finely chopped onion

2

finely chopped garlic cloves

2

finely chopped jalapeños

3

tablespoons Sriracha sauce

1/4

cup taco seasoning

1

teaspoon cumin powder

1-2

tablespoon crushed red pepper

1/2

teaspoon garam masala

1

cup bread crumbs

1

cup shredded pepper jack cheese

salt, to taste

100 calorie sandwich buns

mayonnaise to spread on buns

sliced tomatoes

lettuce
Pre-heat the oven to 350° F.
Rinse and dry beans.
Mash the beans and mix in garlic, onions, green peppers, jalapeños and corn.
Mix in Sriracha, red pepper flakes, garam masala, cumin powder, taco seasoning and salt.
Add bread crumbs and mix well.
Make 2 inch patties, 1/4 inch thick.
Line patties on a greased baking pan, cover with aluminum foil and bake for 10 minutes on each side.
Assemble the burger: spread some mayo on buns, place lettuce, tomatoes, patty and sprinkle cheese.
Jump to

Comments

(

2

)