Summer Salad with Turkey, Greens, and Chickpeas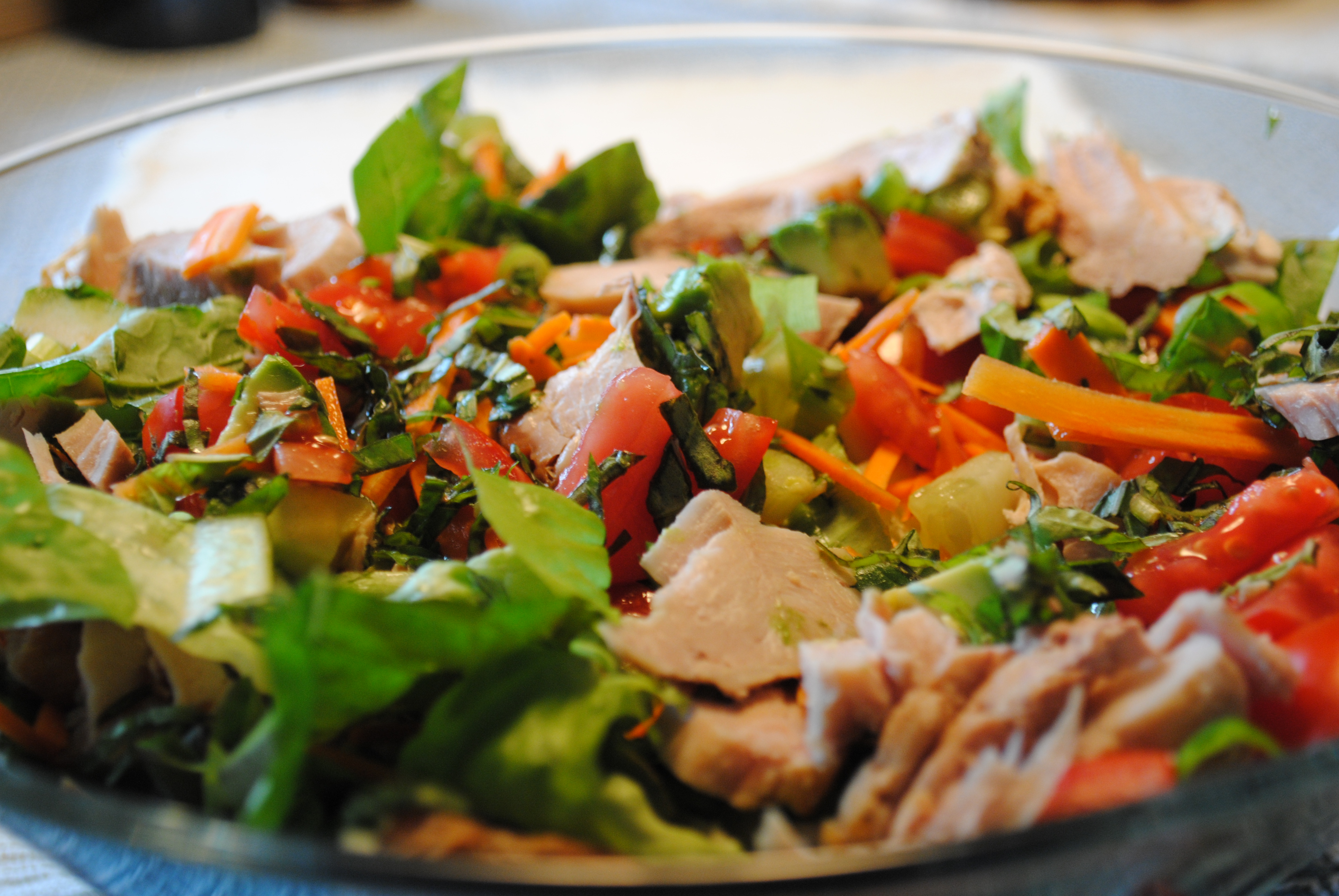 Author Notes: Protein, greens, legumes, vinaigrette, ready to go in 40 minutes -- my kind of summer workday supper. The turkey I use comes from an old school Italian grocery store in my neighborhood. It is made on site so I guess that would make it an artisanal product. However you call it, to my taste this turkey has better flavor and less salt intensity. Other customers buy it sliced as a cold cut. I get a chunk and make salad.

Also my kind of healthy. Hard to go wrong with locally sourced vegetables. Nutrition return is excellent and the olive oil enhances nutrient absorption. - Gourmet Metrics
Serves 2
for the salad dressing:
1 2/3

tablespoon vinegar 6% acidity (25ml)

1/2

teaspoon kosher sytle flake salt (1.7g)

5

tablespoons extra virgin olive oil (75ml)

fresh parsely, dried herbs, basil, oregano
for the salad:
1/2

cup chickpeas (100g)

3/4

cups red cabbage (50g), washed & coarsely chopped

3 1/2

cups greens or mesclum mix (100g), washed & dried

1/2

cup cherry tomatoes (130g), washed & coarsely chopped

1

carrot (90g), peeled & grated

2

scallions (50g), washed, trimmed, chopped

1/3

pound roast turkey (150g), cut into pieces
Make the dressing in the bottom on a bowl with a 2 quart (2 liter) capacity. Add the vinegar and salt. Let salt dissolve. Then add the olive oil and herbs of choice. Whisk until thoroughly emulsified.
Put chickpeas and cabbage in first, then greens, then carrot, scallion, and tomato. Substitute a small local tomato in season. Arrange turkey pieces on top. Mix salad just before serving.
Calories per serving 550. Nutrition information available on blog site.
Jump to

Comments

(

0

)