Mint & Prosciutto Grilled Shrimp
25
Save
If you like it, save it!
Save and organize all of the stuff you love in one place.
Got it!
If you like something…
Click the heart, it's called favoriting. Favorite the stuff you like.
Got it!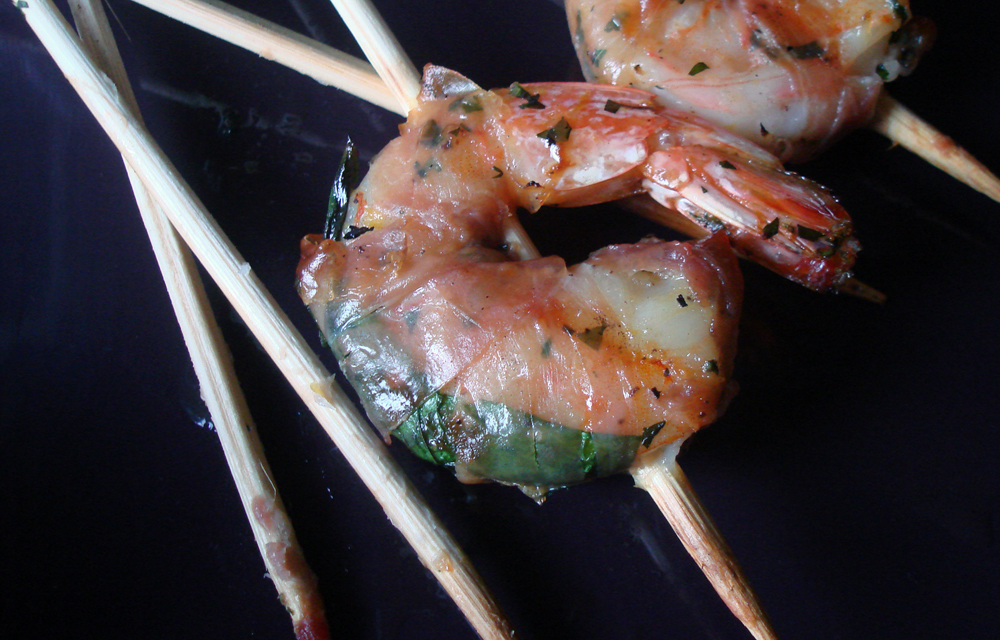 Author Notes: This is a gorgeous hors d'oeuvre I've adapted from Weber's Art of the Grill. The original calls for a lot of garlic and dill to flavor the shrimp. I've reduced the garlic, added lemon zest and changed from dill to mint (the garden variety spearmint, which is growing rampant in my side yard!) The salty prosciutto makes a great foil for the sweet shrimp and mint. I love these best at room temperature - the salt from the prosciutto is tempered just slightly so the other flavors really sing. I like the presentation with one shrimp per skewer, but 2 per skewer works as well. I like to microplane the garlic - it quickly and easily turns into a paste. The futziest part of the dish is the prosciutto - I invariably end up with little bits that don't want to stay attached either when I cut it in half or when I wrap the shrimp. Good thing they fry up nicely and make a great garnish for salad, scrambled eggs, and even pizza. - hardlikearmour
Serves 6 to 8 appetizer servings, 3 to 4 as a main course
Skewers - metal or bamboo

Several sprigs of mint (enough for 18 leaves plus 1 T minced)

1 to 2 largish garlic cloves

1 medium to large lemon

1/4 teaspoon freshly ground black pepper

1 tablespoon olive oil, plus additional for grilling

18 extra jumbo shrimp (about 1 lb)

9 paper-thin slices prosciutto
If using bamboo skewers start soaking them in warm water.
Remove 18 of the small to medium sized leaves of mint and set them aside. Mince remaining leaves, and add 1 tablespoon to a medium bowl. Use microplane to grate garlic. Measure 1 slightly heaped teaspoon into the bowl. Zest the lemon with the same microplane and add to the bowl. Cut lemon into wedges and set aside (for serving). Add the black pepper and olive oil. Whisk to combine.
Peel and devein the shrimp leaving the tails attached, and add them to the bowl as you go. Gently toss the shrimp until they are evenly coated. Cover and refrigerate while grill is heating.
Prepare grill for cooking over medium direct heat. (You should be able to hold your hand about 2 inches above the grate for about 4 seconds.)
Make the skewers when the grill is about 15 minutes from being ready. Use a sharp knife to cut the prosciutto slices in halves lengthwise. (Set aside any loose bits for another purpose.) Take 1 shrimp and lay a mint leaf lengthwise along it's back with the tip of the leaf toward the tail. Take a strip of prosciutto and wrap it around the shrimp, attempting to get most of the mint leaf covered. Form the shrimp into a C-shape, and thread it onto the end of a skewer tail side first.
Brush both sides of shrimp with olive oil. Grill for 2 to 2 1/2 minutes then flip and grill an additional 1 1/2 to 2 minutes - until the shrimp is just opaque. Serve warm or better yet at room temperature, with lemon wedges (optional).