Roasted Salmon With Anchovies And Mayonnaise Tzatziki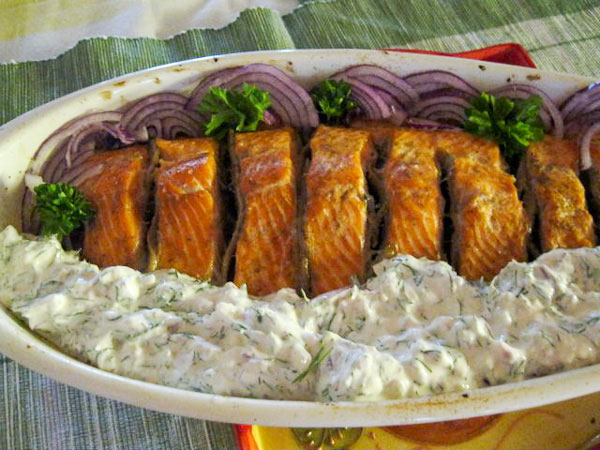 Author Notes: I have to confess! I love mayonnaise! Best Foods or Hellman's mayo out of the jar, spread on bread or toast with any type of meat or fish and thin slices of onion or an open-face sandwich with just hard boiled egg slices, salt, pepper and a thick slice of fresh meaty tomato, are my favorite. But I also like to use mayonnaise in sauces because the possibilities are endless and it is very easy to whip up a delicious concoction by adding fresh herbs, chilles, curry, horseradish or deferent mustards, roasted or fresh garlic and definitely citrus zest and juices. When mayo is a part of sauce it is your helper and friend.
I call the mayo-based sauce in this recipe Mayonnaise Tzatziki because it has a few ingredients which are usually used in the classical Greek sauce. This sauce is seasoned subtly so that it doesn't overpower the delicate salmon flavor.
In the ingredients I wrote that using anchovies is optional, but I strongly recommend to try; they give the salmon an unusually fragrant aroma and a marinated taste.
If you'll have some leftover salmon and sauce, they will make a wonderful salad or use this sauce in any vegetable, meat or fish salads. - Kukla
Serves 6 as a main course or 8 as an appetizer
For Mayonnaise Tzatziki
• 3/4 cup the best quality mayonnaise

• 1/4 cup Greek yogurt

• 1/2 of a medium red onion, finely diced

• 1 large garlic clove, grated on a microplane

• 1 jalapeno pepper, seeded and minced

• 2 teaspoons apple cider vinegar

• 2 teaspoons lemon zest

• Lemon juice to taste, about 3 teaspoons

• Kosher or Sea salt and freshly ground black pepper to taste

• 1/4 cup fresh dill, finely chopped
In a small bowl combine the diced onion with apple cider vinegar, let stand for about 15 minutes; then place all the ingredients in a larger bowl and mix well until homogeneous and smooth. Cover and chill until ready to serve.
For the roasted salmon
• 1 3/4 pounds (700 grams) fresh salmon fillet with the skin

• About 1/2 tin flat anchovy fillets in olive oil, well drained (optional)

• A little Kosher or Sea salt and a generous amount of freshly ground black pepper

• 2 tablespoons olive oil, divided
Preheat oven to 400 degrees F. Evenly coat the bottom of a baking dish (large enough to fit the whole salmon fillet and then to serve in it) with 1 tablespoon oil. Using paper towels, dry well the fish; brush the top of the salmon with the remaining oil, sprinkle some salt and pepper and then place it in the baking dish.
With a sharp knife, carefully make incisions crosswise only in the flash of the fillet about 1-inch apart, try not to piers the skin and place 1 anchovy fillet into each incision. Transfer to the middle rack of the oven and bake for exactly 20 minutes.
Remove the fish from the oven, allow to cool slightly and serve warm, garnished with the Mayonnaise Tzatziki, thin slices of the remaining red onion, herbs and lemon wedges. This dish can also be served cold as a delicious appetizer.