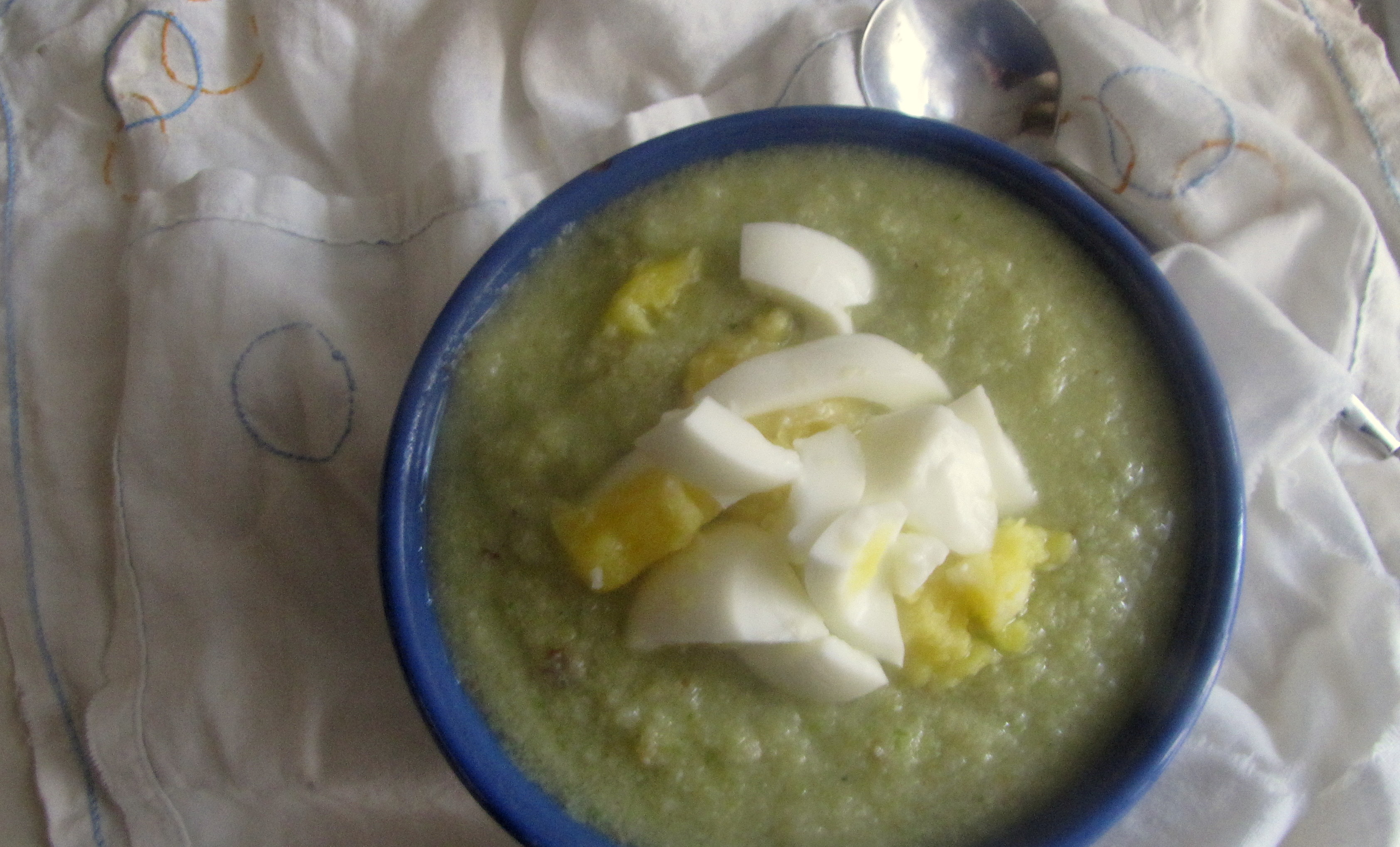 Author Notes: My husband hates tomatoes (I know, I know) So usually when I make gazpacho, I'm the only one eating it. The trouble is, I usually wind up making waaaaay too much. This gazpacho, though, is just like the tomato version only sans tomatoes- makes sense? It's cool, refreshing and can be loaded up on toppings (I love toppings!) It's a great way to beat the heat in the thick of summertime. - Omeletta
Serves 4-6
2

zucchini, skins removed

1

yellow summer squash, skin removed

1

medium sized yellow or sweet onion

2

small or 1 large green bell pepper, seeds and ribs removed

2-3

garlic cloves, smashed

2

medium sized cucumbers, skin and seeds removed

1

lime, juiced

3

cups cubed stale bread

3

tablespoons olive oil

2

cups water, seperated

2

tablespoons coarse ground salt

3

tablespoons white wine vinegar
Toss the bread cubes with olive oil and a good pinch of salt. Over this, pour one cup of water and gently toss to make sure all the cubes of bread are wet. Let sit for at least half an hour while you ready the vegetables.
Roughly chop all the vegetables and combine in a food processor or, if you're like me, in a bowl or container big enough to use an immersion blender without stuff flying all over the place. With the blender running on medium to high, puree all the vegetables, lime juice, salt and vinegar, adding up to one cup of water as needed. You may have to work in batches. Once the vegetables are pureed, add the wet bread cubes. Continue to blend together until the entire mixture is combined and silky.
Eat.
For garnish, I like to add a diced hard boiled egg, or maybe pan-fried croutons that are extra crispy. Or sometimes diced avocado, or diced green (or red!) tomatoes.
Jump to

Comments

(

0

)