Fried Green Tomato Sandwiches with a Shrimp Spread Filling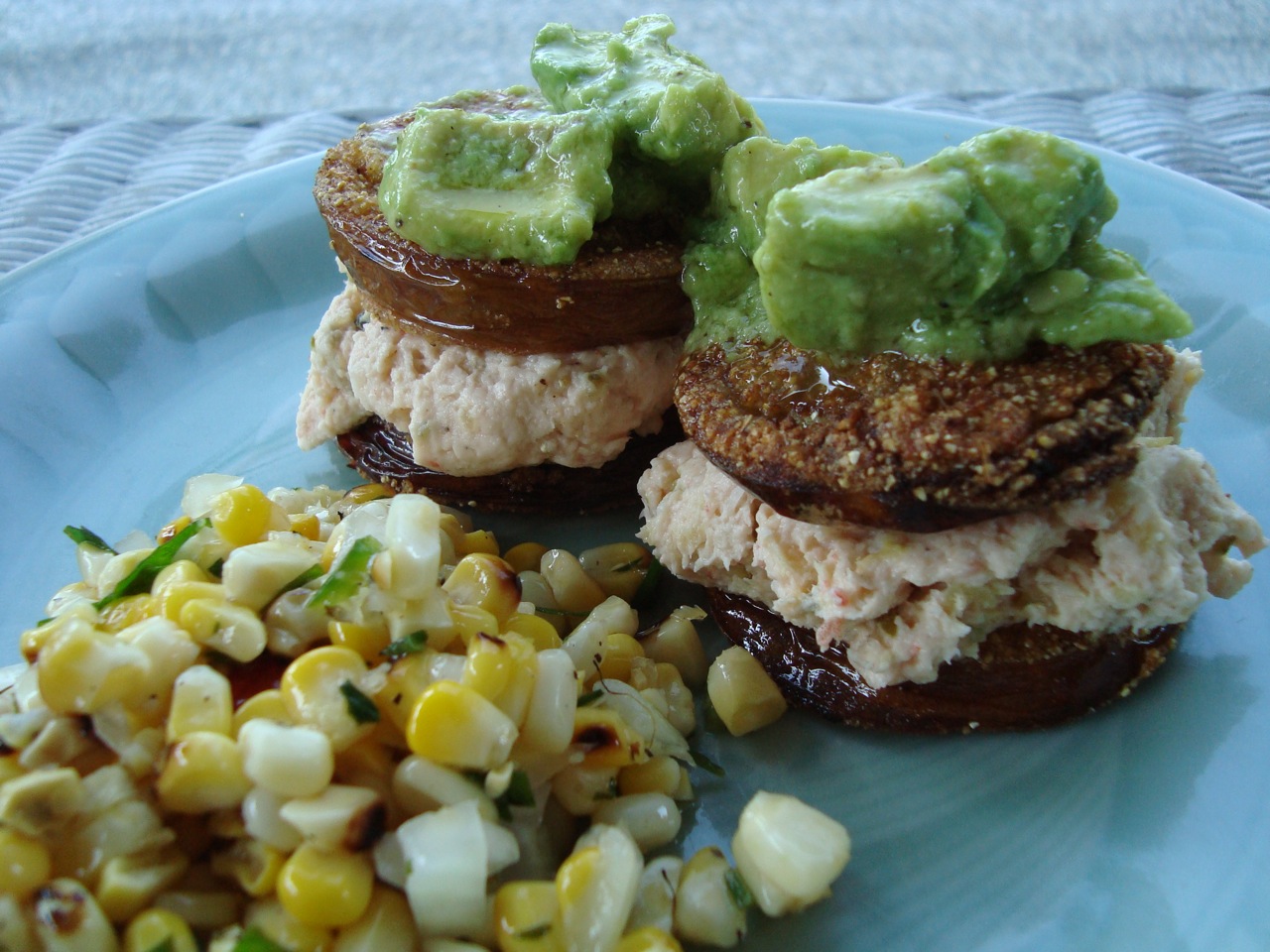 Author Notes: A great friend shared a generous part of her abundant CSA share with me, and I walked away with green tomatoes. Fried green tomatoes are a favorite, and in recent days I have tried various fillings and toppings for stacking nicely fried green tomatoes. This shrimp filling is simple and flavorful - you can play with the remoulade sauce ratios to get the particular taste you want. I like to serve these "sandwiches" with a nice corn salad, and topped with chopped avocado in a lemon and oil vinaigrette. - Bevi
Makes 4 sandwiches, or 8 open faced sandwiches
For the Shrimp Spread
1/2

pound medium uncooked shrimp

1

cup white wine

juice of 1/2 medium lemon

sprigs lemon verbena or other herb - thyme is also nice

1

tablespoon mayonnaise

1

teaspoon ketchup

1/2

teaspoon Worcestershire sauce

1/4

teaspoon anchovy paste

1

tablespoon lemon juice

dashes Tabasco sauce

dashes Old Bay seasoning or paprika

dashes black pepper

1 to 2

tablespoon coarsely chopped sour pickles
Bring the wine, lemon juice, and herb sprig to a boil in a medium sauce pan. Add the shrimp and cook for 1 minute. Immediately take off the heat and plunge the shrimp in an ice water bath.
Shell and coarsely chop the shrimp.
Whisk together all the ingredients listed from the mayonnaise on down the list. Taste and adjust the remoulade as you like. Add the sauce and shrimp to the bowl of a food processor, and pulse gently until the shrimp had the consistency of a spread. Taste for seasoning - add extra ingredients to suit yourself. Place in a bowl and refrigerate until ready to use.
For the Avocado Topping and the Fried Green Tomatoes
1

ripe yet firm avocado

juice of 1/2 medium lemon

olive oil - twice the amount of lemon juice

1/4

teaspoon sugar

salt and pepper to taste

enough olive oil to pour in a large saute pan to 1/4 inch depth

3

green tomatoes, sliced 1/2 inch thick

1/2

cup fine corn meal

Salt and pepper to season the tomato slices
For the Avocado Topping: Chop the avocado coarsely. Place in a plastic container with a sealable top. Mix together the lemon juice, olive oil, sugar, and salt and pepper. Add to the avocado and seal the container top. Shake well and set aside while you fry the green tomatoes.
For the Fried Green Tomatoes: Heat the olive oil in the saute pan. While the olive oil is heating, dredge the green tomato slices in the corn meal. Place in the hot oil and salt and pepper the slices. Fry for about 3 to 4 minutes, or until the coating is golden brown. Flip the slices, salt and pepper, and fry until the second side is golden brown. Place on paper towels to drain, and blot.
Assemble by creating a sandwich with the shrimp spread as the filling. Top with the avocado. You can also create an open faced sandwich by serving the avocado directly upon the shrimp spread.
Jump to

Comments

(

2

)