Blueberry Cream Cheese Ice Cream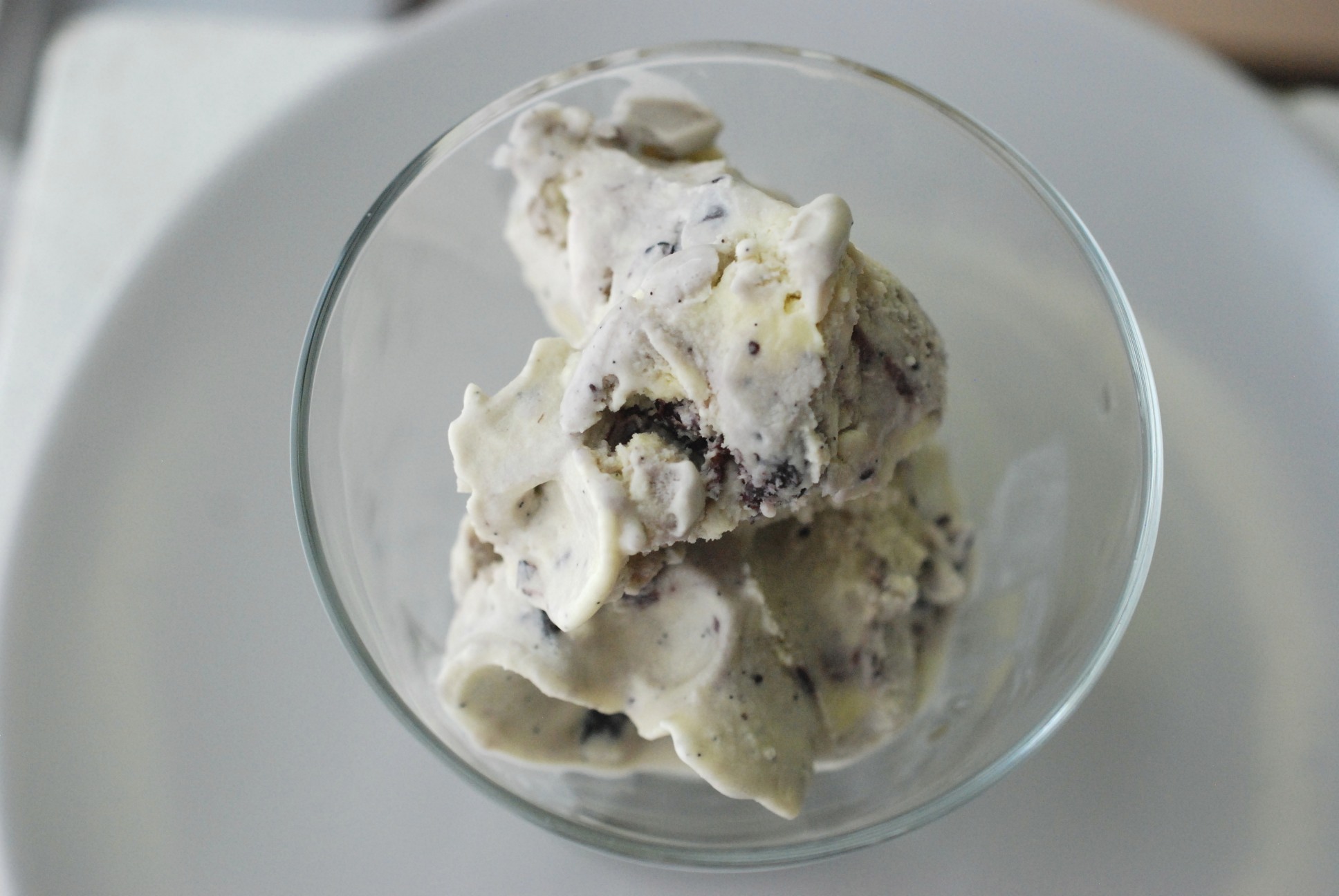 Author Notes: I recently went to an ice cream fair where I tried a "blueberry goat cheese" ice cream. I love goat cheese, but this ice cream tasted far more like cream cheese. Which got me thinking.. I cook down the blueberries, with a little honey and lemon zest, to concentrate the flavor. - cristinasciarra
Makes about 1.25 quarts
Blueberry Jam
1 punnet fresh blueberries

1.5 tablespoons honey

1 tablespoon lemon zest
Add the honey and the lemon zest to a wide-bottomed pot, along with 3/4 cups of water. Set the heat the to medium-low, stirring to dissolve the honey. Add the blueberries, and let everything cook down slowly, until the blueberries are jammy, 30-40 minutes.
Allow the blueberry jam to cool completely.
Cream Cheese Ice Cream
2 cups cream

1 cup whole milk

1/2 cup sugar, divided

1 pinch salt

5 egg yolks

1/2 cup whipped cream cheese
In a medium pot, combine the milk, the cream, 1/4 cup of sugar, and the salt. Heat the liquid over medium-low heat, stirring occasionally, until it froths. Turn off the heat.
In a separate small bowl, collect the egg yolks. Add the remaining 1/4 cup sugar, and whisk for about 2 minutes, or until the yolks look a lighter yellow.
Take a tiny measure of the milk mixture, and whisk it into the egg yolks. Keep adding the milk, little by little, whisking without pause as you go. When you're finished, run the custard base through a sieve, add then add it back to the pot.
Turn the heat again to medium-low. Stir the custard almost constantly as it heats. You want it to coat the back of your spoon; after that, it's done.
Move the custard to an ice bath. If you give it the occasional stir, it should be good and cold in about 45 minutes-1 hour. (You can also chill overnight in the fridge.)
Just before pouring the cold custard into an ice cream maker, whisk in the whipped cream cheese; it doesn't have to be totally blended.
Let the machine go for about 20-25 minutes, or until the ice cream reaches the consistency of soft-serve. (Don't let it go too long, or you will start to make butter.) At the last minute, pour in the cooled blueberry jam.
Spoon the ice cream into a plastic container, leaving as little air between the ice cream and the lid as possible, and move it to the freezer for at least 2-4 hours. Take the ice cream out of the freezer 5-10 minutes before serving.
Jump to

Comments

(

0

)