Peaches 'n Caramel Oat Streusel Ice Cream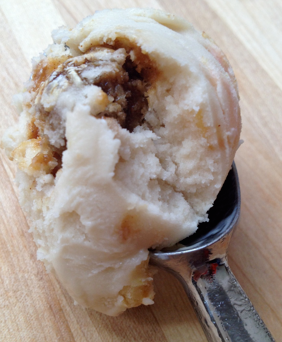 Author Notes: While ice cream is good all year around, something about it embodies summer. School is closed, the days are long and hot, and rules, such as "no ice cream for breakfast", are meant to be broken. I bought an ice cream maker at the start of summer, and it haven't stopped churning out cold treats since. Here, I transformed a summer time classic, peach cobbler, into an ice cream for pie a la mode, instantly. This recipe can also serve as a basic non-dairy "base" that countless new flavors can be born from, by adding in any combination of nuts, fruits, chocolate chips, or flavored extracts. - ripecuisine
Makes 1 1/2 quarts
Peaches 'n Caramel Oat Streusel Ice Cream
2 1/2

cups coconut milk

2

cups almond milk

1/2

cup maple syrup

1/4

cup agave nectar

2

tablespoons coconut oil, melted

1

tablespoon vanilla extract

3/4

teaspoons xanthan gum

pinch

sea salt

1

cup peaches, diced

1

cup Caramel Oat Streusel (recipe to follow)
In a blender, puree all ingredients together until well combined.
Pour mixture into ice cream work bowl and/or follow ice cream maker's Manufacturer's instructions. Once ice cream is near end of processing and has begun to significantly thicken, add peaches and Caramel Oat Streusel crumbles.
Chill in freezer for an hour or more until desired frozen consistency is achieved.
Caramel Oat Streusel
1/2

cup rolled oats

1/2

cup palm sugar

1/4

cup oat flour

2

tablespoons coconut oil

2

tablespoons non hydrogenated margarine or butter

1

tablespoon maple syrup

3/4

teaspoons cinnamon

1/2

teaspoon vanilla extract

pinch

sea salt
Heat oven to 350F. In a small mixing bowl, combine oats, sugar, flour, cinnamon, and salt. Cut in coconut oil and butter, and then add maple syrup and vanilla, mixing until well combined.
On a baking sheet lined with parchment paper, spread out mixture evenly creating a 1/4 - 1/2 inch layer. Bake for 10 minutes.
Remove from oven, mixture will be bubbly and somewhat "liquified". When cool enough to handle, pinch off pieces of "oat caramel" into marble-sized crumbles.
Jump to

Comments

(

0

)