Salty Caramel Apple Ice Cream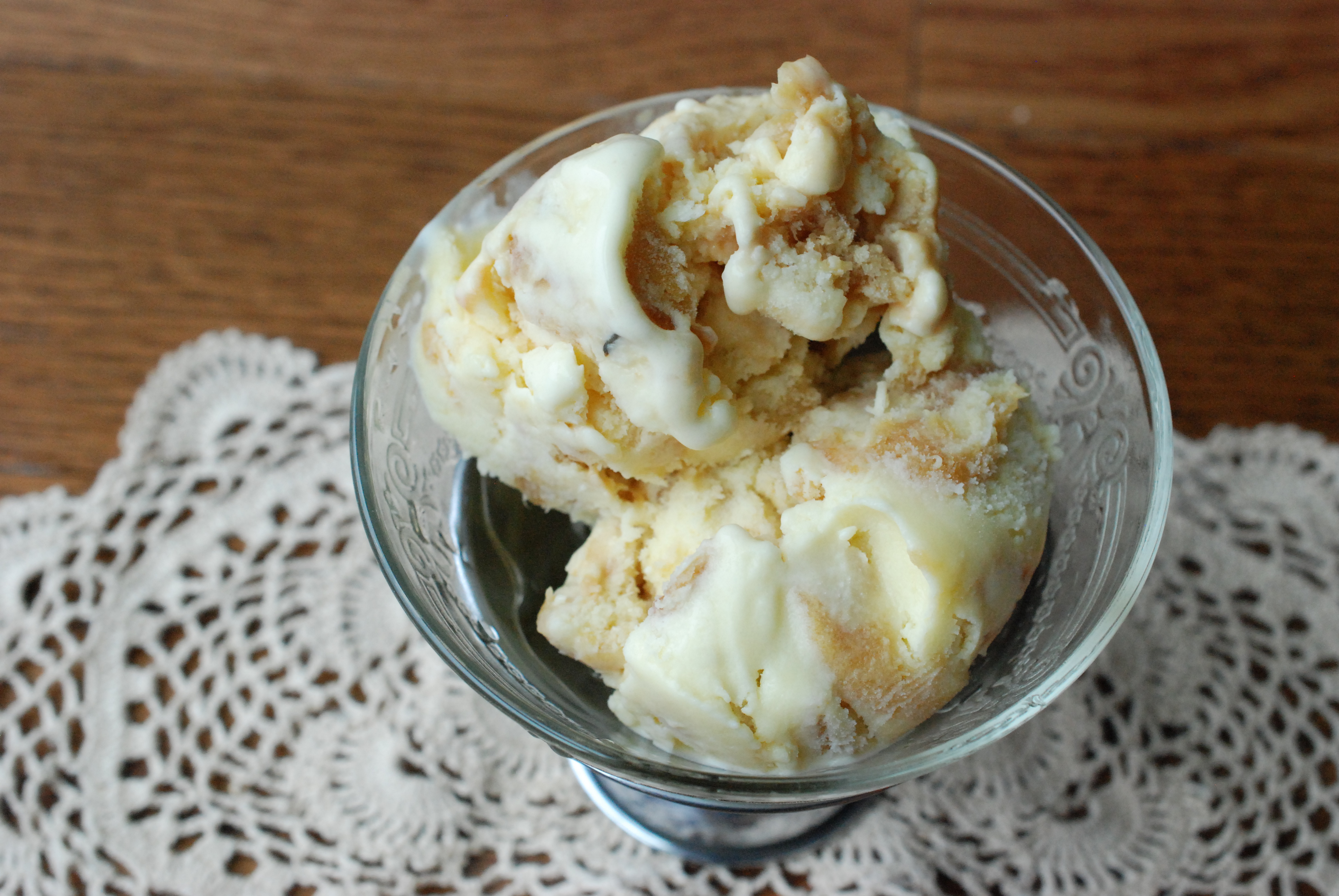 Author Notes: I'm working my way through the "Apples" chapter of Nigel Slater's Ripe, wishing it was fall so that I too could blend spiced parsnip soups and braise pork belly into oblivion. Instead, I took further inspiration from the jar of Île de Ré-salted caramel I smuggled home the last time the Frenchman and I visited. I had some time, and some Calvados, so they got thrown in there too. - cristinasciarra
Makes about 1.25 quarts
Cook the apples
1 pound of apples

1/4 cup sugar

2 full sprigs thyme
Peel and core the apples, and then cut them into a chunky dice. In a small bowl, toss the apple pieces with the sugar, until the apple is evenly coated.
Meanwhile, heat a cast iron pan (or a heavy-bottomed pan) over medium-low. When it's good and warm, add the apples. Don't touch them too much for about 5 minutes; they should be releasing some juices at this point. Add the thyme, and give the apples a little stir.
Cook for about 20 more minutes (25 minutes total), stirring very occasionally, or until the apples have started to caramelize and are soft. Discard the thyme.
Move the apples to a plate. With the back of a fork, squish them a little; the result should give you sort of half apple pieces, half apple mash. Let the apples cool completely.
Ice Cream Base
1.5 cups whole milk

1.5 cups cream

1/2 cup sugar, divided

1 pinch salt

1 tablespoon Calvados or Cognac (optional)

5 egg yolks

1/4 cup salted caramel
In a medium pot, combine the milk, the cream, 1/4 cup of sugar, the salt, and the Calvados. Heat the liquid over medium heat, stirring occasionally, until it froths up in the pot. Turn off the heat.
In a separate small bowl, collect the egg yolks. Add the remaining 1/4 cup sugar, and whisk for about 2 minutes, or until the yolks look a lighter yellow.
Take a tiny measure of the milk mixture, and whisk it into the egg yolks. Keep adding the milk, little by little, whisking without pause as you go. When you're finished, run the custard base through a sieve, add then add it back to the pot.
Turn the heat again to medium-low. Stir the custard almost constantly as it heats. You want it to coat the back of your spoon; after that, it's done.
Move the custard to an ice bath. If you give it the occasional stir, it should be good and cold in about 45 minutes-1 hour. (You can also chill overnight in the fridge, which is even better.)
Pour the cold custard into an ice cream maker. Let it go for about 20-25 minutes, or until the ice cream reaches the consistency of soft-serve. (Don't let it go too long, or you will start to make butter.)
Spoon all the ingredients into a plastic container in layers: a little ice cream, a sprinkling of apples, a drizzle of caramel. Repeat this until all the ingredients are used up. If you'd like, run a knife around inside the container, to give a move even swirl.
Keep in mind that it's best to leave as little air between the ice cream and the lid as possible. Move the container to the freezer for at least 2-4 hours. Take the ice cream out of the freezer 5-10 minutes before serving.
Jump to

Comments

(

1

)