Rolled Oat and Walnut Cookies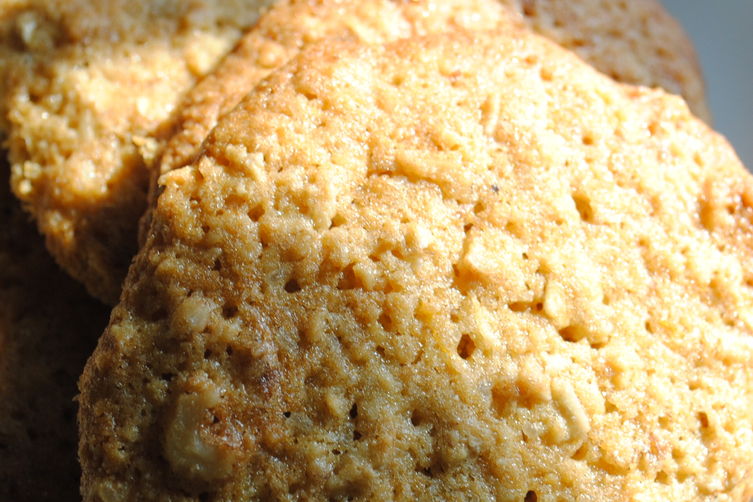 Author Notes: Baking is new to me. I never had much success in past attempts, but two things have happened. First, I replaced my beam balance with a digital scale. And second I priced my favorite store bought artisanal cookies at somewhere between $10 to $15 plus per pound. So I decided to give my baking skills one more chance. On the way I discovered something interesting. Dual measures do not work gracefully. If I use 100 grams whole wheat pastry flour, the equivalent is 1 1/9 cup. If I use 1 cup of the same flour, the equivalent is 91 grams. Since I know I will never use a cup, I decided to go with the gram amounts. Then I made a second discovery. Food 52 has no indicator for grams. There is one for liters, but not grams. So I used ounces. - Gourmet Metrics
Makes about 32 cookies
3.5

ounces unsalted butter (100 grams)

7

ounces dark brown sugar (200 grams)

2

eggs

3.5

ounces whole wheat pastry flour (100 grams)

3.5

ounces rolled oats (100 grams)

3.5

ounces walnut halves (100 grams)

1/2

teaspoon vanilla extract

1/2

teaspoon flake style salt

1/2

teaspoon baking powder
Weight out butter, sugar, flour, oats, and walnuts. Whisk salt and baking powder into flour. Pulse rolled oats and walnuts in food processor for smaller pieces
Cream butter. Add sugar and beat until soft and fluffy. Beat in egg and vanilla. Fold in pastry flour, rolled oats, and walnuts.
Divide dough into four pieces and make rolls. Wrap each roll in plastic and chill until firm. Dough can be frozen at this point for future use.
Cut the dough roll into rounds and bake in pre-heated 375º F oven until the cookies turn a delicate beige, about 12 - 14 minutes.
Jump to

Comments

(

0

)