Sage and Salt Crust Turkey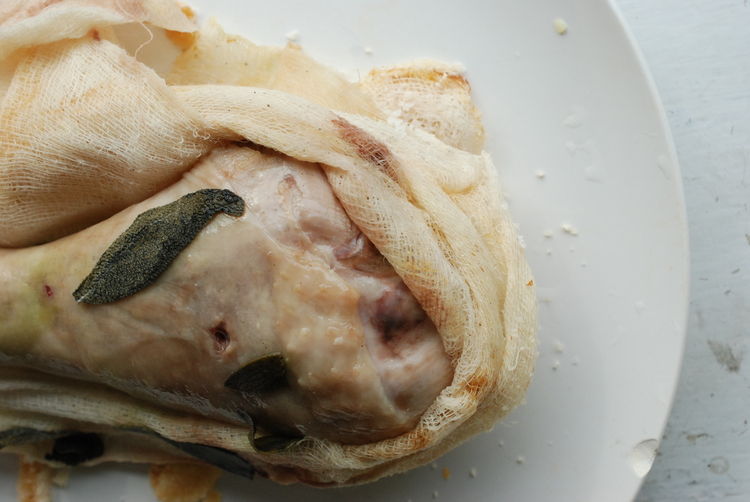 Author Notes: This contest is actually a bit of a blessing in disguise, as it provides me the opportunity to practice ideas for Thanksgiving on a smaller scale! I used turkey drumsticks for this recipe, but you can scale up if you want to treat the whole turkey this way. Otherwise, I stand by drumsticks if you're having a small Thanksgiving gathering. One thing to keep in mind--I bought my turkey drumsticks at the market, meaning they are much smaller than, say, what you'd find at Disney World. Cooking time and measurements may vary according to size. I made a salt crusted chicken this year, and it worked out quite well, so I thought, "why not turkey too?" - cristinasciarra
Makes 1 turkey drumstick
1 turkey drumstick

4 cups kosher salt

2 egg whites

1 tablespoon lemon zest

1 tablespoon unsalted butter, room temperature

a small handful of fresh sage leaves

black pepper
Heat the oven to 425F.
Take the drumstick out of it's packaging, and pat dry.
In a large bowl, mix the kosher salt with the egg whites and lemon zest. When you're finished mixing, it should be the texture of wet sand.
Spoon some of the salt mixture onto a parchment paper-lined baking sheet. You should spoon enough so that, when flattened with your palm, the turkey leg will fit inside it. You shouldn't be able to see the parchment paper through the salt.
Rub the butter all over the turkey leg, making sure to reach underneath the skin. Then, arrange the sage leaves all over the leg (the butter should help it stick). Wrap the turkey leg in cheesecloth, and set it on the salt patch/baking sheet.
Use your hands to cover the turkey leg in the salt mixture. There should be no cracks when you're finished! Cover it completely.
Move the drumstick to the oven. Cook it for 45 minutes, or until a meat thermometer reads 165F. (You'll have to poke it through the salt crust.)
Crack the salt off the drumstick. When it's cool enough to handle, carefully unwrap it from the cheesecloth. By this time, the meat should be rested. Remove the skin and discard. Enjoy warm.
Jump to

Comments

(

1

)