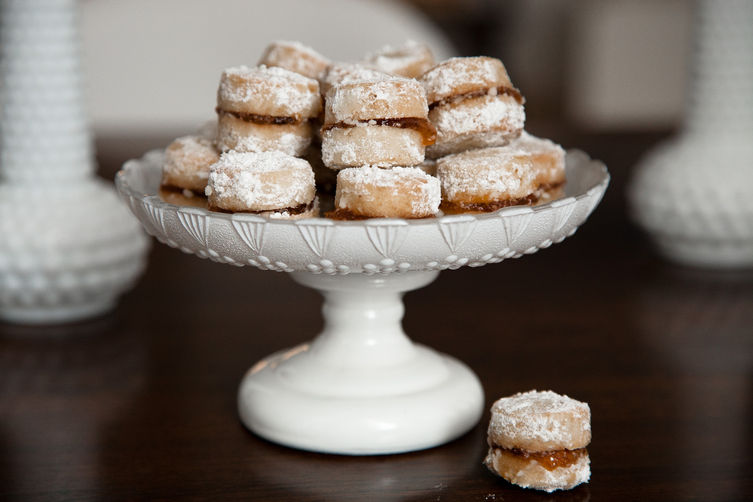 Author Notes: Every family has a heirloom. A jewel, a story, a secret... I have a book of recipes. Compiled by my grandmothers and grandaunts and carefully perfected and written down by my mom. When I decided to cross the ocean forever I took the book with me. Nothing in the book is really a secret. We were never of a non-sharing kind. The food is to be enjoyed by everyone. The process of making the special foods is to be enjoyed by everyone. Happiness is to be shared. And one of the happiest and most treasured of our recipes is Vanilice. Vanilice (pronounced vah-ny-ly-tseh ) are tiny Serbian cookies made for holidays and special occasions. Vanilice (which means "little vanillas") are bite-sized walnut cookie sandwiches with jam and vanilla scented powder sugar. Vanilice hold such a special place in the Serbian cuisine and tradition, that in good old days every self-respected lady of the house was expected to make a very special jam, usually rosehip or apricot, to be used for Vanilice. There are many variations of the Vanilice recipe. Thousand of them. My greataunt Cica was the creator of our family's version; she was so proud of it that until the day she died, she supervised every family member in the process of making Vanilice. Including my grandmother.

p.s. Before you go to work, a couple of important things: 1) you must get the best quality lard, 2) you must be patient and let Vanilice sit in a cool dark place for at least one or two days before serving -- not in the fridge, and 3) you must use good quality firm jam -- unless you want your Vanilice running all over the place. Too many musts, but it will be worth it. - QueenSashy
Makes about 60 cookies
300g

lard (ideally leaf-lard)

250g

granulated sugar

2

egg yolks

1

whole egg

Juice of one lemon

1

teaspoon finely grated lemon zest

250g

ground walnuts

600g

all-purpose flour

Rosehip or apricot jam

200g

powder sugar

1

vanilla bean, cut into 1/2 inch pieces
A couple of days before making the cookies, in a small bowl with a tight lid mix the powder sugar with the vanilla bean. Store in a dry place.
In a mixer fitted with paddle, beat the lard with the granulated sugar until creamy. Beat in the egg, egg yolks, lemon juice and lemon zest. Add the walnuts and flour and beat until uniform dough forms. Cover the dough and refrigerate for at least 3 hours or overnight.
Preheat the oven to 325° convection bake (350° regular bake). Place the dough on work surface dusted with flour and roll it out to a 1/4-inch-thick round. Line two baking sheets with parchment paper. Using a small round cookie cutter (I use 1-inch or quarter-size cutters), stamp out the cookies and arrange them one inch apart on the baking sheets.
Bake for about 12 minutes, so that the rounds remain white. Let the cookies cool on the baking sheets for 5 minutes, and then transfer to a wire rack or flat surface to cool completely.
Once the cookies are cool, take a cookie round at a time, spread the jam on it and top with another cookie round.
Roll each cookie-sandwich generously in the vanilla sugar. Put the cookies into a tin box, and wait for one to two days before serving.
Jump to

Comments

(

13

)