Asian Turkey Salad Lettuce Wraps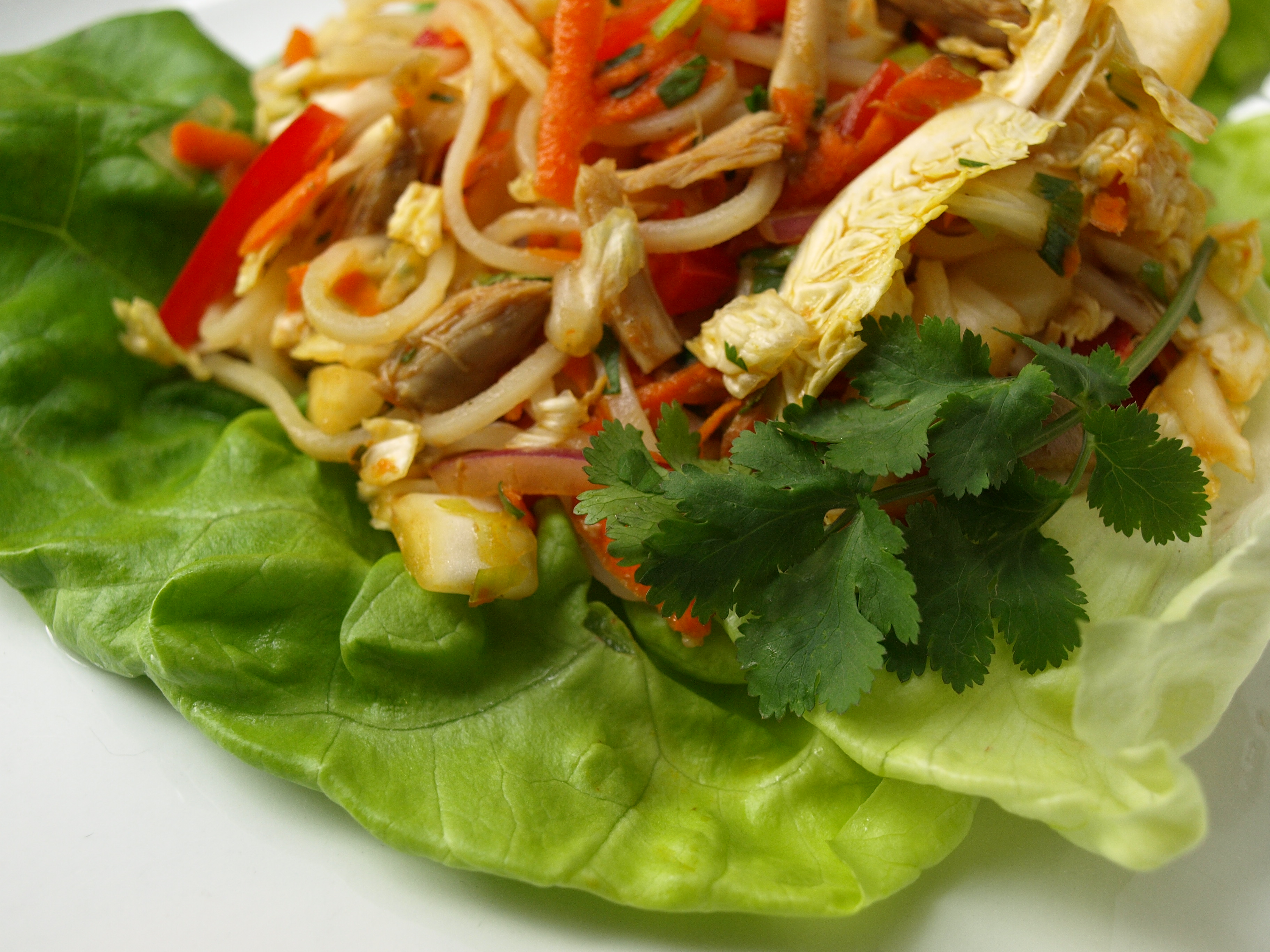 Author Notes: This Vietnamese-inspired recipe is light but satisfying, the perfect antidote to Thanksgiving overindulgence. This is my base recipe; I'll add in whatever other veggies are on hand: blanched green beans, shredded daikon, sliced cucumber or celery, chopped jalapeño. I happily use thin rice noodles or mung bean noodles (also known as glass or cellophane noodles), either or both of which should be easy to find in an Asian market or the ethnic foods aisle of the grocery store. Didn't have turkey on Thanksgiving? This recipe works well with sliced ham, roasted pork, or duck, too. - vvvanessa
Serves 4-6
Nuoc Cham (Fish Dipping Sauce)
1/2

cup tepid water

3

tablespoons granulated sugar

1/4

cup bottled fish sauce

1/4

cup white or rice wine vinegar

1-2

teaspoon fresh lime juice

1-2

chile peppers, thinly sliced (use anything from jalapeño to Thai peppers, depending on desired heat intensity)
To make the dipping sauce, place the water and sugar in a 2-cup minimum capacity jar with a lid. Shake to dissolve sugar.
Add the rest of the ingredients, adjusting to taste.
Pour sauce into a smal bowl. Set aside.
Asian Noodle Salad
2

cups cooked turkey, shredded or cut into thin strips

2

cups napa cabbage, thinly sliced

1

carrot, julienned or grated on the large holes of a box grater

1/2

small red onion, thinly sliced

1

small red bell pepper, thinly sliced

1/2

Asian pear, julienned or grated on the large holes of a box grater

2

scallions, thinly sliced

2

tablespoons freshly minced cilantro

2

tablespoons crushed, roasted peanuts

4

ounces (dry weight) bean thread or thin rice noodles, cooked and cooled

2-3

tablespoons soy sauce

1/4

cup rice wine vinegar

1

teaspoon fresh lime juice

1/4-1/2

teaspoon ground white pepper

1-3

teaspoon Sriracha or other hot pepper sauce

12

large, pliable lettuce leaves such as butter, Boston, or red or green leaf lettuce, cleaned and dried
To make the salad, combine all the ingredients except for the lettuce.
To eat lettuce wraps, place about 1/3 cup of the salad mixture onto a lettuce leaf. Wrap the filling burrito-style or just tightly roll the leaf around the salad.
Dip roll into the fish sauce.
Eat.
Wonder what to do with all the leftover cranberry sauce.
Jump to

Comments

(

0

)
Tags: Healthy, leftovers, light, Salads, savory, serves a crowd, turkey, Vietnamese