Pan-Fried Brusslies with Pomegranate Molasses, Mustard and Apple Cider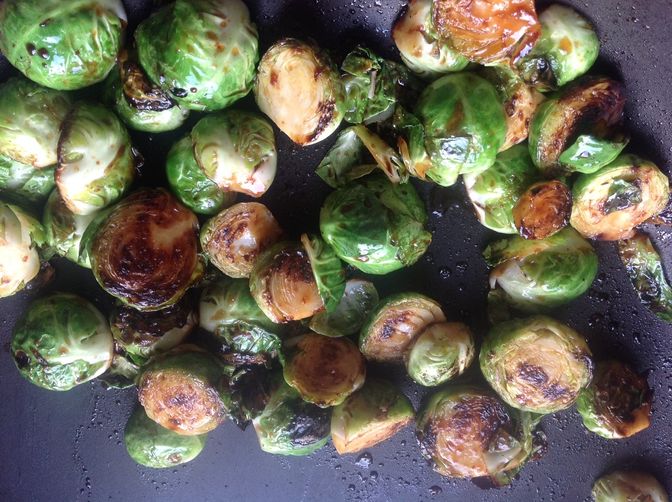 Author Notes: I've heard that sailors have an expression, "When you don't know what knot to tie, tie lots of them." That's kind of how I felt one evening last week when I had a couple of nice filets of sockeye salmon filets but no particular plans, other than to get them onto our dinner table without much delay. The sauce started out as a fairly simple mustard and pomegranate molasses duo, but then I thought it could use something sweet but with a little bite to it. So I added a touch of the newly-pressed unfiltered cider we get locally. Then I couldn't resist adding some fish sauce, which makes just about everything taste better, and then a little soy, because the Red Boat Fish Sauce I've fallen in love with recently isn't all that salty, so the sauce needed a little help. I liked the sauce so much I wasted no time in trying it with Brussels sprouts, with similar success. This recipe, which serves two, took me less than 11 minutes to prepare, including the trimming and halving of the Brussels sprouts. You can double or triple it, but make sure you use a really large skillet if you do, so the Brusslies are not crowded. (Cook in two batches, before adding the sauce, if necessary.) The total time, assuming you're fairly adept with a paring knife, should still be less than 15 minutes. These hold well and taste great at room temperature. Enjoy! ;o) - AntoniaJames
Serves 2
10 ounces Brussels sprouts

1 tablespoon grapeseed oil (or other oil with a high smoking point)

½ teaspoon stoneground mustard (I use one with horseradish in it.)

1 ½ teaspoons pomegranate molasses

½ teaspoon fish sauce

2 teaspoons unfiltered apple cider (If using a sweeter, filtered cider, use 1 teaspoon cider and 1 teaspoon cider vinegar.)

½ teaspoon soy sauce (optional – only use it if your fish sauce is not salty)

This recipe was posted by AntoniaJames, who has included this here because contributors to FOOD52 receive no attribution when their recipes are posted on other sites.
Trim the Brussles sprouts and cut each one in half. (Halve even the smaller ones. You want the rough cut surfaces to soak up the sauce.)
Heat a large skillet over medium high heat until very hot. Add the oil, which should thin out immediately.
Put the Brusslies into the skillet and flip the halves over so the cut side is down.
Put a timer on for two minutes and leave the Brusslies alone. Do not touch them. They need sustained exposure to the high heat to caramelize.
Combine all of the remaining ingredients except the soy sauce in a small bowl.
After two minutes, flip the Brusslies over, give them a little stir, and cook for another minute.
Then, turn the heat off, immediately cover the skillet and put your timer on for another minute. As soon as the minute is up, turn the heat back up to medium high, give your sauce a quick stir, then dump it all into the hot pan.
It will start to bubble up immediately and evaporate. Immediately start stirring the sauce into the Brusslies, cooking for about thirty seconds. The sauce will thicken up.
Turn off the heat and taste a leaf or two (or a half of a Brussels sprout, if no leaves have pulled away). Does it need salt? If not salty enough, turn the heat back on and sprinkle on the soy sauce. Give it all another good stir and remove from the heat.
Enjoy!! ;o)