Snowy Sunday Breakfast, an Ode to the Farm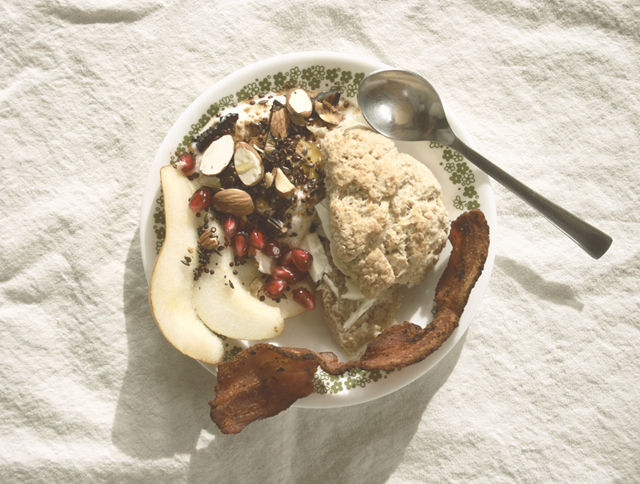 Author Notes: At our house, we all have Sunday off. The Television stays off, and the music is turned on. For me, it is the one morning I can cook whatever breakfast dream I have been been living in all week. This past autumn, I spent 11 weeks living, working and cooking on farms throughout the northwest, and I am truly feeling homesick for the farm. So I cooked organic bacon (not as good as the fresh farm butchered and cured, but close), rosemary biscuits inspired by Dabbling's "Sweet Rosemary Buttermilk Biscuits" (missing the rosemary bush that every farm had) and yogurt and pears (if only I had a goat to make fresh milk and yogurt from). - MandyJene
Serves 4
Sweet Biscuits
1

cup buttermilk

2

tablespoons fresh rosemary

1

cup all-purpose flour

1

cup wholewheat flour

1

tablespoon baking powder

1

teaspoon salt

1/3

cup brown sugar

3

tablespoons butter

1/2

teaspoon lemon zest

1

teaspoon lemon juice

1

tablespoon milk for brushing

2

teaspoons large grain sugar
set oven to 400 degrees
Chop rosemary and toss into a saucepan with buttermilk (or milk with a teaspoon on apple cider vinegar). Simmer and then let cool for about 10 minutes
In a milking bowl combine flours, baking powder, salt, brown sugar, and lemon zest. Cut in the butter with 2 knives or a pastry cutter, until the mixture has evenly cut crumbs. Add the lemon juice.
slowly, with a spatula, stir the buttermilk and rosemary mixture into the dry mixture. Stir until everything is evenly moist and forms a wet dough.
make small to medium sized balls with your palms, and squish onto a floured cookie sheet about 1/2 inch thick.
*(optional) brush with milk and dust with sugar
bake for 12-17 minutes, until lightly browned ontop
Savory Yogurt and Fruit (bacon on the side)
1

cup plain greek yogurt

1/2

teaspoon cinnamon

1

tablespoon quinua

1

teaspoon flaxseeds

1/2

tablespoon poppyseeds

1

tablespoon chopped almonds

1/4

cup prunes, figs or other dried dark fruit, sliced

1

pear, sliced

8

pieces bacon, cooked in a pan.
spoon 1/4 - 1/3 cup yogurt on each plate, dust with cinnamon
toast all the seeds in a small saucepan, or in a toaster oven, until lightly browned and aromatic.
toss seeds, and sliced fruit on top of the yogurt.
Serve each dish with a biscuit, 2 pieces cooked bacon and the yogurt. I sometimes add a drizzle of honey on top of it all.
Jump to

Comments

(

0

)