candied orange rinds dipped in dark chocolate
23
Save
If you like it, save it!
Save and organize all of the stuff you love in one place.
Got it!
If you like something…
Click the heart, it's called favoriting. Favorite the stuff you like.
Got it!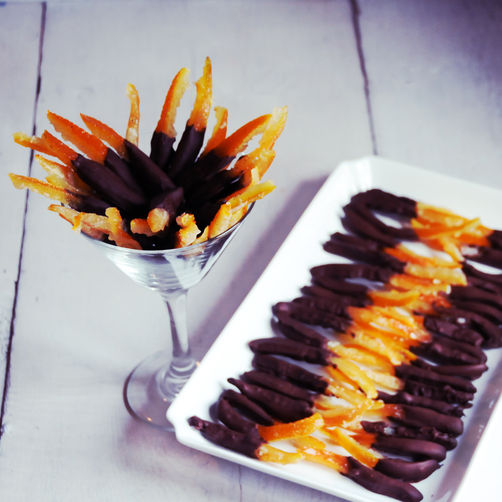 Author Notes: sweet, tangy, fresh candied orange peel dipped in a luxuriously silky & bitter dark chocolate with just a hint of vanilla - whatever's left
Serves 8
7

pieces large, organic oranges

3

pounds sugar

500

milliliters water

1

teaspoon vanilla bean powder

0.83

pounds good quality dark chocolate 80%+
1. cut the oranges in half & juice them. (fresh orange juice for the whole family!). Using a spoon, scrape out the flesh from the inside of the orange peel, but leave the peel & pith (the white part) intact. Cut the remaining rind into strips of the desired length & thickness. Don't go too thin with them as you don't want them to be flimsy.
2. place the strips into a large pot & fill with cold water until the rinds are covered. Bring the water to a boil & allow to boil for 5 minutes, drain the water. Repeat this step 3 more times (4 times altogether). Strain the rind strips & set aside.
4. using tongs, remove the strips one by one & place them on a wire cooling rack to dry. Make sure the strips do not touch otherwise they will stick together. Also, place a sheet of parchment under the rack as this will make cleanup easier.
5. The strips can take between 30 minutes & 3 days to completely dry, this will depend on the temperature outside & the humidity. You want them to be dry before you dip them in chocolate.
6. Place the chocolate in a double boiler or in the microwave & melt carefully. Once melted, dip the strips one by one & shake gently to remove excess chocolate. Place the dripped strips onto a piece of parchment until cooled & hardened. The quantity of chocolate recommended will dip half the strips.
Jump to

Comments

(

1

)