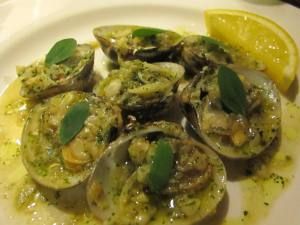 Author Notes: I wanted to highlight the use of Moringa because of its tremendous health benefits. Incorporating Moringa in a classic dish, prepared simply, is a good way to make this lowly and otherwise unknown plant a new and wonderful ingredient to be reckoned with. From the Asia to Africa, Moringa has been known as a very good source of protein, calcium magnesium ETC.. Hence my fascination for using this in a lot of my dishes. - Andre Schaer-Soriano
Serves 2
Moringa Pesto
2

pieces garlic

2

cups fresh malunggay

1/2

cup basil

1/2

cup sun flower seeds

1/2

cup parmesan cheese

3/4

cups olive oil

pinches salt to taste

pinches pepper to taste
Combine all ingredients together in a food processor, and puree until you get a pasty consistency. Season with salt and pepper according to your taste.
Clams
2

tablespoons Extra Virgin Olive Oil

2

tablespoons Shallots finely chopped

3

pieces Garlic finely chopped

1

teaspoon Chili Flakes

1

pound Clams

250

milliliters White Wine

1

tablespoon Pesto

pinches Salt to taste

pinches Pepper to taste

1

tablespoon Salted Butter for finishing
Heat pan to medium, add oil and saute shallots for about 30 seconds and add your garlic and chili flakes. Saute for another minute… Toss in the clams and pour white wine and simmer, tossing and turning clams occasionally until clams slightly open. Then stir in the pesto. Tossing , until the clams are slightly coated with the sauce. Switch your heat off to avoid over cooking, then add the butter and just lightly stir for about 10 seconds. You can serve it with toast or you can have it as a pasta dish. Seasoning will depend on your taste. Remember that the pesto is already seasoned and you will have your salt from butter and clams.
Jump to

Comments

(

0

)