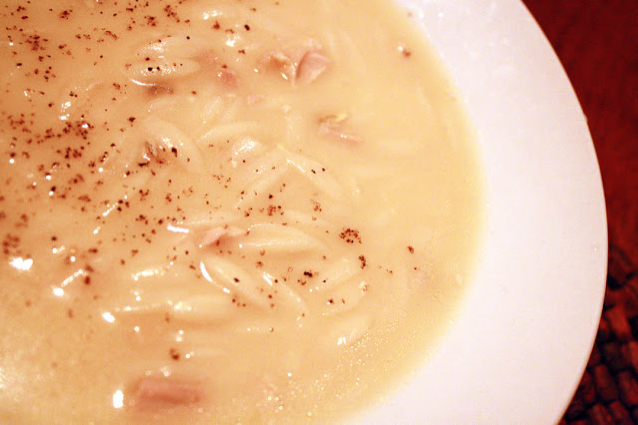 Author Notes: This is a beautiful and delicate soup. It's one I had a lot growing up in Richmond. There was (and still is) a little Greek spot called Athens Tavern that served it. That was the only place I ever had it until somewhat recently. It's like chicken and noodles, but it somehow manages to be a lot more complex and bold while simultaneously being delicate and diaphanous upon hitting the tongue. These supposed elemental mismatches end up making perfect sense - they just are. - F for Food
Serves 6-8
2

quarts strong chicken stock (preferably home made)

1

cup chopped up chicken pieces (preferably from the meat of the chicken used for the stock)

1/2

cup raw orzo

4

eggs

Juice of 4 Meyer lemons

Kosher salt & fresh cracked black pepper
Bring stock to a boil and add the orzo. Cook until orzo is tender, about twenty minutes. Add chicken.
Remove the stock from the heat. Just before serving, beat the eggs until they are light and frothy. Slowly beat in the lemon juice and dilute the mixture with two cups of the hot soup, beating constantly until well mixed.
Add the diluted egg-lemon mixture to the rest of the soup, beating constantly. Bring almost to the boiling point, but do not boil or the soup will curdle.
Salt and pepper to taste and serve immediately.
Jump to

Comments

(

3

)