Kale Salad with Buttermilk Anchovy Dressing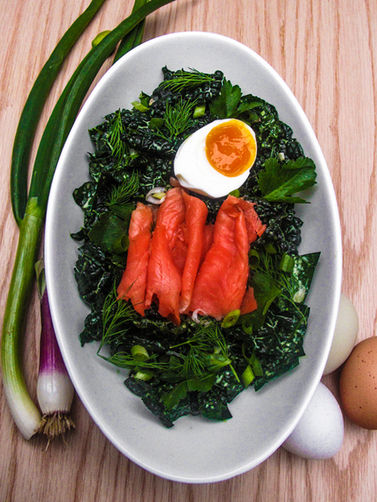 Author Notes: Sometimes, I feel downright spoiled by where I live. Last weekend, while my friends back East were snowed in, I was enjoying oysters and Bloody Marys by the very waters that said oysters came from, basking in the warmth of the sun. This weekend, while other bloggers were putting up recipes for delectable braises and stews, I was in wine county. Seriously? How spoiled can you be, sipping on beautiful wine, wearing a tank top, in February!? Oh, and it was pool-side no less.

I never take it for granted, though.

This gorgeous long weekend made me anxious for spring. So anxious, in fact, that I decided that a big, bright salad was in order. Our local farmers markets are just starting to bring the first spring onions, so I made sure to grab a few handfuls!

This salad combines many of my favorite early Spring/late Winter goods. The buttermilk dressing adds just the right amount of tang, while the smoked salmon and egg make for a very satisfying meal. Perfectly tangy with a nice hit of salt, this salad pairs beautifully with a bright, lightly effervescent wine such as Anne Amie's Cuvee (2011).

So join me in a bit of wishful thinking and enjoy this early taste of Spring, regardless of the weather outside! - butterandthyme
Serves 2-4
Dressing
3

large clove garlic

the zest of 1 medium organic lemon (on micro plane)

2

medium organic lemons, juiced

1/2

cup buttermilk (we used Kalona SuperNatural 2%)

5

anchovy filets

1/2

cup grated, packed Pecorino Romano (grated on the widest side of a box grater)

4

egg yolks (pastured eggs if possible)

1/4-1/2

cup extra virgin olive oil

1/4

teaspoon pink Himalayan salt
Blend all ingredients on high to combine. Add additional salt or anchovies to taste.
Salad
2

medium bunches of lacinato kale (chiffonade or tear with stems removed, rinsed and drained, preferably with a salad spinner)

1/2

bunch green onion (roots removed and outer layer peeled, thinly sliced)

1/4

cup fresh dill, cleaned and stemmed, roughly chopped

1/4

cup fresh parsley, cleaned and stemmed, roughly chopped

Smoked wild King salmon - about 1/8th lb. per person

4-6

pastured eggs (1 or 2 per person)

1

teaspoon baking soda
Put cleaned kale in a large bowl and add a decent amount of the dressing (2 or 3 tablespoons). Massage the kale well, until it has begun to soften.
Add in the dill, parsley, and green onions. Toss to combine.
Fill a medium saucepan halfway with cold water. Stir in the baking soda and bring to a boil.
When water is at a rolling boil, reduce to a simmer and gently add eggs one by one.
Allow to continue to simmer for 5 to 6 minutes, depending on desired doneness/runniness.
Remove from heat and rinse under cold water for 30-60 seconds.
Peel eggs under cold running water and set aside.
Plate the salads and top with rolls of the smoked salmon, chopped herbs and green onions.
Top with a halved (lengthwise) soft boiled egg and freshly cracked black pepper. Add additional dressing if desired!
Jump to

Comments

(

0

)