Pulled Pork Sandwiches with Stone Fruit Salsa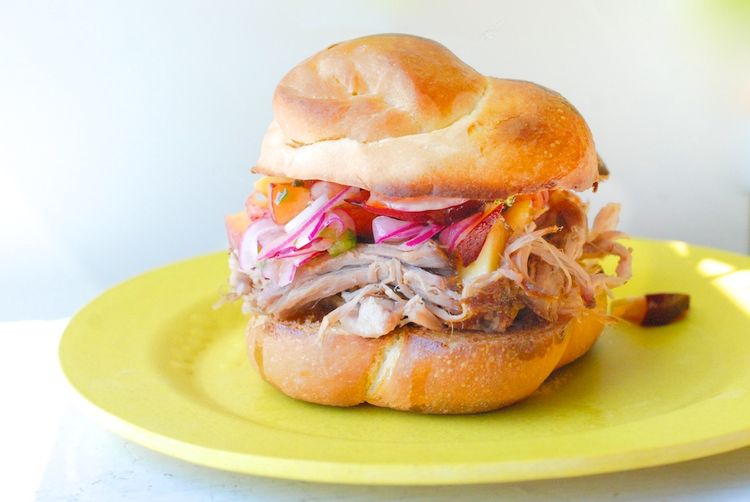 Author Notes: Here, Boston Butt is flavored with herbs, spices, and condiments I suspect you already have in the pantry, or lining the fridge door. The recipe yields 12 heaping sandwiches, or twice as many mini ones, but use a larger piece of meat to serve a larger party, and simply scale up the seasonings as you see fit. Since the dish is prepared entirely ahead of time, it won't tie you to the stove when your guests arrive. (It also makes great leftovers.) The picture shows a brioche bun, but the sandwich is just as tasty served on cheap potato buns. - cristinasciarra
Makes 12 large sandwiches
Boston Butt
1 tablespoon Dijon mustard

1 tablespoon Worcestershire sauce

1/2 tablespoon hot pepper paste

5-6 garlic cloves, divided, peeled

3 tablespoons light brown sugar

1 tablespoon dried oregano

1 tablespoon ground thyme

1 tablespoon smoked paprika

1 tablespoon sea salt

1 tablespoon cider vinegar

3 tablespoons olive oil

4-5 pound Boston butt (pork shoulder)

1 small white onion

2 medium carrots

2 cups beef or veal stock
Rinse the pork, pat it dry, and set it on a cutting board. Check "the top" (the side with a layer of fat covering it); if the fat layer seems too thick, trim it down a little. Score the fat by cutting a diamond pattern; this will help the marinade better penetrate the meat, resulting in more flavor.
Add the following to a food processor: the mustard, the Worcestershire sauce, the hot pepper paste, 2-3 garlic cloves, the brown sugar, the oregano, the thyme, the paprika, the salt, the vinegar, and the olive oil. Press the "stir" button, and let the ingredients blend together, 30 seconds-1 minute. You want a loose paste.
Rub the marinade all over the Boston butt. Really get in there, on all sides, into every hidden space. (If you have the time, apply the marinade the night before. Cover and refrigerate overnight.)
Heat the oven to 325F.
Lift the Boston butt into a Dutch oven (or a heavy pot with a good lid). Peel and halve the carrots, and then peel and quarter the onion. Distribute the carrot pieces, the onion, and the remaining garlic around the Boston butt. Pour the stock on top of the vegetables.
Set the range to medium-high, and let the stock come to a boil. When it does, put the lid on and move the pot to the oven.
Remove the pot from the oven once an hour to flip the Boston butt. At this temperature, it should take about 1 hour per pound to cook. (For a more exact measurement, wait until your meat thermometer registers 190F-195F; mine only took 3 1/2 hours, so it's always good to check. You're looking for meat that falls away from the bone.) During the last 10-15 minutes of cooking, flip the Boston butt so that the "top" (the fat side) is facing up. Raise the oven temperature to 425F. Cook until the top becomes crispy and golden.
Take the pork out of the pot, and let it rest on a cutting board for 10-15 minutes. (You can lightly tent it with foil.)
The pan juices: During the last 10-15 minutes of cooking at 425F, I could see my pan juices happily boiling away and reducing. However, if you find yourself with an abundance of jus, you can further reduce the sauce on the stove top while your pork is resting. When it reaches the consistency of runny gravy, take it off the heat.
Run the juices and vegetables through a sieve, and then let the strained sauce rest in a cup or bowl for about 10 minutes, until the fat rises to the top. Remove as much of the fat as you can. Reserve the rest to pour over the pork, once it has been pulled apart.
After the pork has rested, use two forks to "pull" the meat apart. (It should come apart quite easily.) Discard any fatty bits, or gristle. If you like, save the bone for stock.
Return the pulled pork to a clean pot and pour the strained pan juices on top. Using tongs or a large spoon, gently toss the pork until the juice is evenly distributed.
The pork is ready. You can turn the range to the lowest setting to keep the pork warm as you serve. (I keep the lid on, to help prevent the pork from drying out.)
Stone Fruit Salsa
1 small red onion

1 serrano pepper

juice of 1 lime

1 teaspoon honey

1 tablespoon white vinegar

1 tablespoon olive oil

4 nectarines

// 12 large buns, or 24 mini ones. Potato works well, but brioche does too. Any soft bun will work.
Using a knife or mandolin, cut the red onion into thin slices. Seed and finely dice the serrano.
In a medium bowl, blend the lime juice with the honey, the white vinegar, and the olive oil. Add the red onion and the serrano, and stir to incorporate. Let the onion and the serrano sit in the liquid for 10-20 minutes.
Just before serving, slice up the nectarines however you like, and stir them into the onions and serrano.
Assemble the sandwiches // I toasted the buns, although it isn't mandatory. Scoop some of the shredded pork onto the bottom layer of each sandwich. Finish with a spoonful of stone fruit salsa. Enjoy warm.
Jump to

Comments

(

2

)