Fennel, Jicama and Green Mango Salad with Lime Herb Vinaigrette
10
Save
If you like it, save it!
Save and organize all of the stuff you love in one place.
Got it!
If you like something…
Click the heart, it's called favoriting. Favorite the stuff you like.
Got it!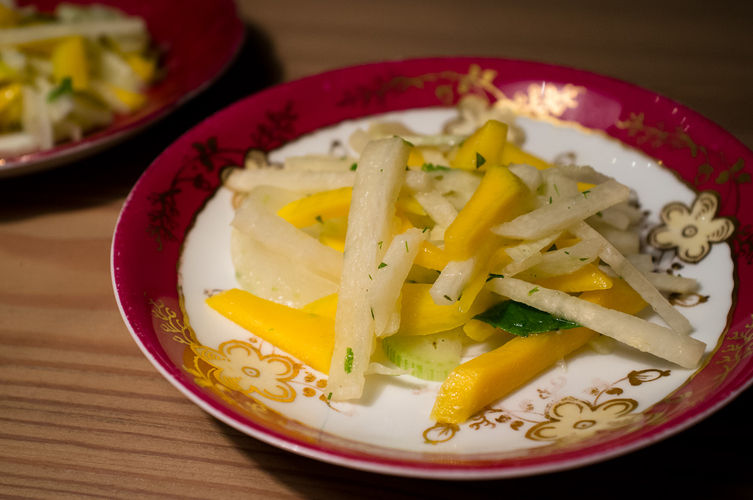 Author Notes: Early spring is a tricky time for food lovers. With the long winter behind us, the market is still waking up, and while we wait for that new produce to arrive, we squeeze every ounce of creativity to bring back the bright colors and light flavors into our culinary lives. This salad is a refreshing and colorful way to make a new start. A little bit of white, a little bit of orange, a little bit of green, the licorice touch of fennel, the crispy coolness of jicama, the sweet and sour mingling of the green mango, with refreshing hints of lime, basil and mint make the-end-of- the-winter welcome for the new season. - QueenSashy
Serves 4
1

large fennel bulb (about 1 ½ lb)

1

large jicama (about 1 lb), peeled and julienned into ½-3/4 inch strips

1

green (unripe) mango, peeled and julienned into ½-3/4 inch strips

1/4

cup lime juice

1/4

cup extra virgin olive oil

1

tablespoon unseasoned rice vinegar

1

teaspoon brown sugar

1

teaspoon minced basil

1/2

teaspoon minced mint

1

teaspoon minced fennel fronds

1/2

teaspoon lime zest

Ground white pepper
Halve the fennel lengthwise without removing the core, and slice the fennel thinly crosswise, stalks included.
In a large bowl mix the fennel, mango and jicama.
Prepare the vinaigrette. In a small bowl, mix the olive oil, lime juice, rice vinegar, and brown sugar. Whisk until well blended and creamy. Add the mint, basil, fennel fronds, lime zest and white pepper.
Pour the vinaigrette over the salad. Mix well and leave for about 15 min for flavors to absorb.
Serve with grilled fish, simple grilled meats and a glass of white wine.