Slow-Roasted Carrots with Lamb and Spring Onion Dressing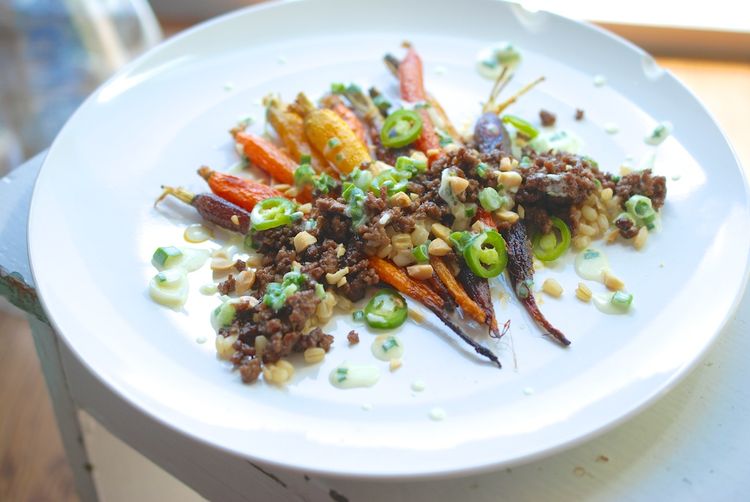 Author Notes: My goal for this dish was to create something earthy and balanced; flavorful, but not at all winter weary. It's packed with (brown) sugar, spice, and everything nice (namely, jalapeño slices, creamy dressing, and crunchy peanuts). Vegetarians can skip the lamb--to compensate the flavor and protein loss: toast the peanuts with lime juice and cayenne; stir cumin and paprika into lentils. Vegans can skip the sour cream--to give the dressing a little body, emulsify with tahini or Dijon mustard instead. - cristinasciarra
Serves makes 2 starter portions, or 1 filling lunch plate
1 bunch of carrots

a heaping 1/4 cup olive oil, divided

1 tablespoon light brown sugar

1/4 teaspoon chili powder

kosher salt

1/2 cup wheatberries

1 jalapeño pepper

1 tablespoon rice wine vinegar

the juice of 1 lime, divided

2 garlic cloves

1/4 pound ground lamb

1/4 teaspoon cumin

1/4 teaspoon paprika

2 tablespoons minced scallions

1 tablespoon minced chives

1/4 cup sour cream

2 tablespoons chopped peanuts
Prep the carrots: Heat the oven to 325F. Peel the carrots, snip the stems, and then toss them with 2 tablespoons of the olive oil, the brown sugar, the chili powder, and a generous sprinkle of salt. Move the carrots to a parchment-lined baking sheet (for easy clean up), and then into the oven. I cooked my carrots for 1 hour, flipping them once at the 30 minute mark. You are looking for carrots that are soft on the inside, but wrinkled and wilty on the outside.
Prep the wheatberries: Spoon the wheatberries into a small pot, and add 2 cups of water. Turn the heat to medium high, and bring the water to a boil. When the water starts to bubble, lower the heat to a simmer. I cooked my wheatberries for about 50 minutes, until most of the water was dissolved, and the wheatberries were softened, but still retained a chewy bite. Drain the wheatberries. 1/2 cup will yield more wheatberries than you probably need for this recipe, so use any extra on: salads, in soup, for breakfast with fruit and yogurt, etc. They are quite healthy.
Prep the jalapeño: Wash and slice the jalapeño as thinly as possible, crosswise. Move the jalapeño slivers to a bowl, along with the rice wine vinegar and 1-2 tablespoons of the lime juice. Fill the rest of the bowl with cool water, enough to cover the jalapeño slices completely. Let them rest this way for at least 20 minutes, to soften the harshness of the spice.
Prep the lamb: Heat 1/2 tablespoon of the olive oil in a pan over medium heat. While it's warming, mince the garlic, and then add it to the pan. After 30 seconds, add the cumin and the paprika, to toast. Let all the spices warm in the oil for 1-2 minutes. Then add the lamb, and cook until it's no longer pink. Stir intermittently as you go.
Make the dressing/prep the peanuts: Add the minced scallions and minced chives to a small bowl. (I used scissors, and snipped directly into the bowl.) Add the sour cream, 2 tablespoons of the olive oil, and 3 tablespoons of the lime juice; whisk with a fork to emulsify. Chop the peanuts.
Build the dish: Lay the carrots on a plate; you can serve them hot, or at room temperature. Scatter on the lamb (I think this is best served warm) and the wheatberries (warm or at room temperature). Decorate with the jalapeño slivers and chopped peanuts. Finish the plate by drizzling on the dressing.