Seafood Stew that Reminds Us of Portugal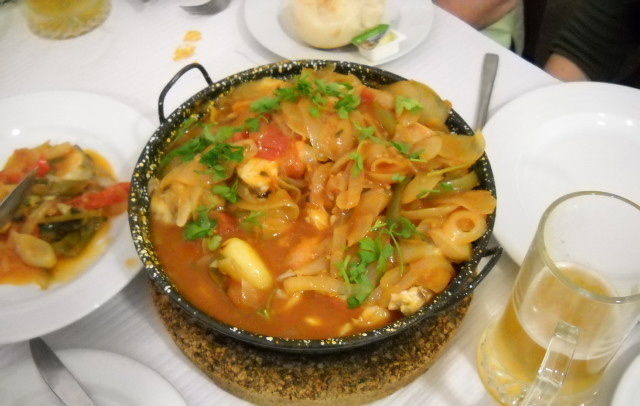 Author Notes: A couple of years ago, my husband and I went to Portugal with friends. We traveled all over the country, and often for lunch we found small family-run restaurants where the husband fished, and the wife made a stew out of whatever was fresh-caught that day. These were some of our favorite meals--super fresh seafood simply prepared in a flavorful broth. Seafood stew made at home has become one of our favorite suppers--simple and comforting-- and one we've made for easy dinner parties as well. Served with a green salad, a loaf of rustic bread and lots of wine, this stew makes for a homey dinner with friends--the best kind of party.

(Photo was taken in Portugal of a stew that we had in a little family run restaurant.) - drbabs
Serves 4 generously
Olive oil

Kosher salt

Fresh ground black pepper

1 large bulb fennel, sliced thin, fronds reserved

1 large sweet onion, halved pole to pole and sliced

3 large carrots, cut into small dice

3 large cloves garlic, sliced thin

4 Yukon gold potatoes, cut into approximately one-inch pieces

4 plum tomatoes, peeled, seeded and chopped (use canned in the winter/spring)

2 cups white wine (that you like to drink)

1/2 pound med-large shrimp, peeled and deveined, shells reserved

2 pounds fresh white fish filets (I usually use two types of fish--whatever is freshest)

1 teaspoon fennel seed, crushed with mortar and pestle or ground in spice grinder (or more to taste)

juice and zest of 1/2 lemon, preferably meyer

1-2 TB chopped kalamata olives (optional)
Put shrimp shells in a large saucepan and cover with about 1 cup of water. Bring to a boil then reduce heat and simmer uncovered while you prepare the rest of the stew.
In a large Dutch oven over medium heat, heat about 2 tablespoons of olive oil till shimmering. Add onions and fennel with a teaspoon of kosher salt and about 1/2 teaspoon of fresh ground black pepper. Cook, stirring frequently, till vegetables are soft but not browned, about 10 minutes. Add carrots, and continue to cook for a few more minutes till they begin to soften. Stir in garlic, and cook another minute or two till you can smell the garlic; it shouldn't brown.
Add potatoes, tomatoes and wine. Strain shrimp stock into the Dutch oven. If vegetables are not completely covered, you can add more wine or water. Bring to a boil, then reduce heat and simmer uncovered till potatoes can be easily pierced with a sharp knife, about 20 minutes. (If you are making this ahead, you can stop here and refrigerate the stew. Bring it back to boil and then reduce the heat to simmer before adding the seafood.)
Stir in shrimp (Cut them in half if they are large.) and fish filets, being careful not to break them into too small of pieces. Stir in lemon juice, zest, red pepper flakes and crushed fennel seed. Let fish and shrimp poach in broth for 5-10 minutes till just cooked through. Taste and add salt and pepper as desired.
To serve, ladle the stew into a bowl. Drizzle a little good olive oil on the top, and sprinkle with chopped fennel fronds and kalamata olives.
Jump to

Comments

(

3

)
Tags: seafood, shrimp, stew, white fish