Cracklin' Coconut Cherry Macaroons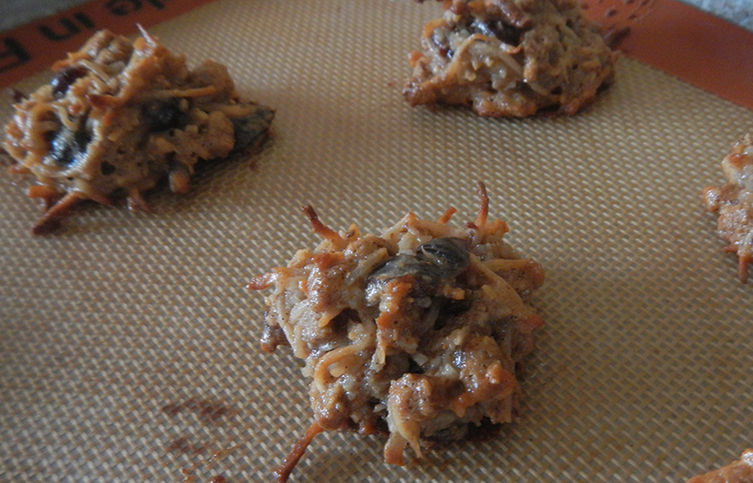 Author Notes: Have you ever wondered what the love child between coconut macaroons and oatmeal cookies would be? I'm pretty sure it would be something like these cookies. The photo for the "Best Cereal" contest reminded me that I hadn't had Cracklin' Oat Bran® for about a million years. It also made me want to come up with a way to use the cereal in a recipe. Some lonely egg whites inspired me to create a macaroon. I used Alice Mendich's genius recipe as my starting point with an even mix of sweetened shredded coconut and Cracklin' Oat Bran®. Some dried tart cherries and cinnamon add pizzazz. Give them a try if you can't decide between making coconut macaroons and oatmeal cookies -- I don't think you'll be disappointed! - hardlikearmour
Makes 20 or so cookies
4

large egg whites

1/2

cup granulated sugar

1 1/2

teaspoons vanilla extract or paste

1/4

teaspoon cinnamon

3/8

teaspoon salt

1 1/2

cups sweetened shredded coconut

1 1/2

cups Cracklin' Oat Bran®

1/3

cup dried tart cherries, coarsely chopped
Combine egg whites, sugar, vanilla, cinnamon, and salt in a large stainless steel bowl. Whisk together. Add the remaining ingredients.
Place the bowl into a wide skillet with about a half-inch of barely simmering water. Stir and scrape the mixture using a silicone spatula, until the cereal has softened and mostly broken up, about 6 minutes. Remove the bowl from the skillet, and let the mixture rest for about 30 minutes.
Heat the oven to 350º F with racks in the upper and lower middle positions. Line 2 baking sheets with parchment or silicone liners.
After the batter has rested, stir to make sure the ingredients are evenly distributed. Use 2 tablespoons (the kind you eat with) to transfer the batter onto the baking sheets in 1 1/2 to 2 tablespoon dollops. Use one spoon to scoop the batter from the bowl, and the second spoon to scrape the batter onto the baking sheet. The dollops should be spaced evenly, about 10 to 11 per baking sheet.
Reduce oven heat to 325º F, and place the sheet pans in the oven. Bake for 12 to 15 minutes, rotating the pans from top to bottom and from front to back after 6 to 7 minutes. The bottom of the cookies should be evenly browned and the tops should be golden with some browning as well. Monitor the cookies and reduce the oven heat if needed to prevent burning.
Transfer the pans to wire racks to cool fully before removing the cookies. Much like the original genius recipe, the cookies are at their best the first day, and will lose crispness after that. Store in a tightly sealed container.
Jump to

Comments

(

5

)