Lamb Burgers with Mint Yogurt Sauce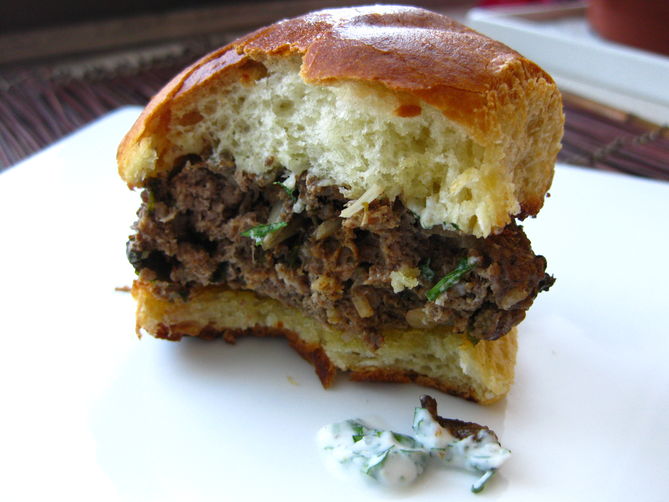 Author Notes: About halfway between Memorial Day and Labor Day I start to get tired of my usual burgers, hot dogs, and chicken. The gaminess of lamb imparted with the smoke of a BBQ is a great change from the usual. I pair these moist lamb burgers with a minty yogurt sauce reminiscent of Greek or Middle Eastern lamb dishes, but you could always top with your go-to favorites! They also make fantastic sliders if you're cooking for a group or just cutting down on the meat! - Meatballs&Milkshakes
Serves 4
1

pound ground lamb

2

garlic cloves, minced

4

tablespoons mint, chopped

1

tablespoon parsley, chopped

1

tablespoon tomato paste

1 1/2

teaspoon salt

1

shallot, minced

1

teaspoon Worchestershire sauce

4

brioche burger buns or 8 slider buns

1/4

cup plain Greek yogurt

1/2

lemon, juiced
Combine the lamb, garlic, shallot, salt, Worchestershire, tomato paste, and half the mint together in a bowl. Mix together with a fork, being careful not to over mix the meat.
Form into burgers or sliders and grill for 3 minutes on the first side and then an additional minute on the second side. You want to start seeing the juices coming to the surface and the bottom browning before you flip. You know they're done to medium rare when they are still somewhat soft to the touch like pushing where your thumb meets your palm.
Combine the rest of the mint and the parsley with the yogurt and lemon juice. Add salt and pepper to taste. Spoon onto the burger (on a bun) and enjoy!