BBQ Pork Butt in a Smokey Chile Sauce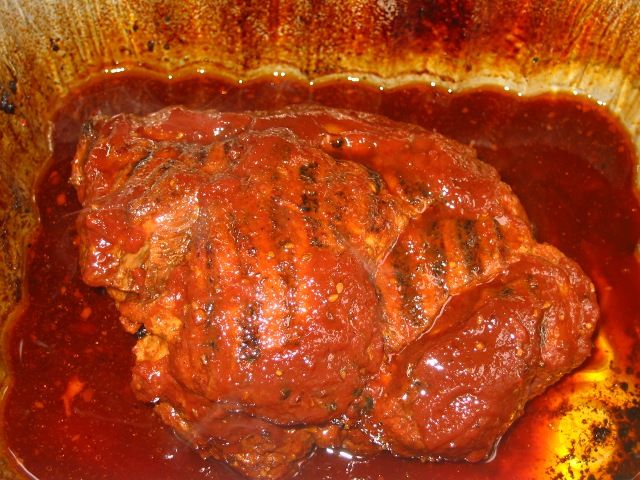 Author Notes: Everybody has a pulled pork recipe, this is mine, BBQ style. Inspired by all the many recipes read throughout the years, I prefer my Spicy Chile sauce, a tomato based sauce that was adapted (and then tweaked) from the Spanish side of my family; a substitute for homemade sauce is Frank's Hot Sauce or similar. My sauce is milder.

SPECIAL NOTE: I make a 3lb beef brisket with the same ingredients, following the same cooking method. However, slice the brisket against the grain, drizzle with sauce and serve with tortillas and slaw.
- lapadia
Makes one 3-lb. pork butt for pulled pork sandwiches
THE PORK
3 lb. pork shoulder

Several halved garlic cloves

1 cup Mickey's malt liquor (or the like)

1 medium sweet onion, finely chopped

1 bay leaf

1 tablespoon apple cider vinegar

2 tablespoons Worcestershire sauce

1 cup smoky red chile sauce (recipe below) OR 1 cup Frank's hot sauce or similar
Stud the pork with garlic cloves
Prepare the BBQ unit; heat the coals and while at their hottest quickly grill the pork, browning both sides.
Place the browned pork into a large size aluminum pan, add the remaining ingredients.
Move the coals to 1/2 side of the BBQ unit.
Cover the pan loosely with aluminum foil and place it over the hot coals to get the sauce simmering. Simmer for an hour.
IMPORTANT: Periodically check the pork, move the pan to the side of the coals if the sauce is simmering too fast.
After the first hour, move the pork to the side of coals (if you haven't already) and cook for another 2 to 3 hours, until tender.
NOTE: Rotate the pan side to side, every half hour, towards the hot coals.
When the pork is done, remove from heat and let sit wrapped in heavy duty foil, 15 minutes up to an hour. For sandwiches, pull apart with forks.
Boil the remaining liquid to reduce and thicken – reduce down to about one cup and combine with the pulled pork.
Serve with my Jalapeno Apple Slaw – onsite.
SMOKEY CHILE SAUCE
1 15 oz. can tomato sauce

1 tablespoon olive oil

1-1/2 teaspoon liquid smoke

4 tablespoons chili powder

3 tablespoons brown sugar (honey or agave will work)

1 tablespoon granulated onion powder

2 teaspoons garlic powder

1 teaspoon sea salt

1/4 to 1/2 teaspoon cayenne pepper (to your heat preference)

1/8 teaspoon ground clove
Combine all ingredients stir together and simmer for 1 hour. Refrigerate unused portion.
Jump to

Comments

(

4

)