Ceylonese Cashew Coconut Chicken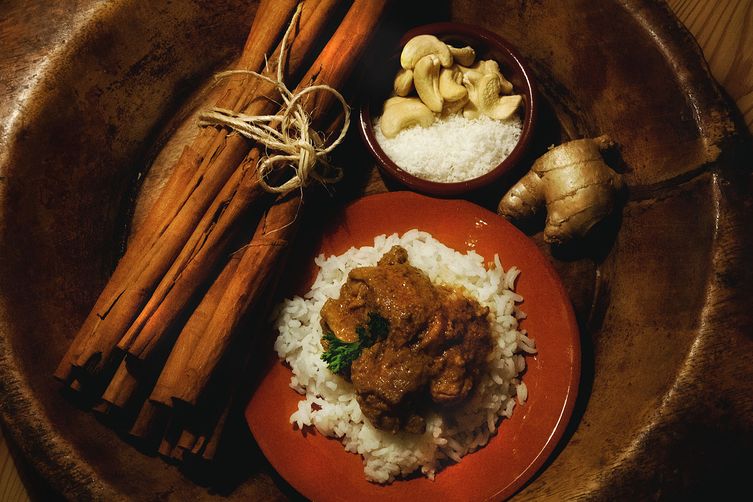 Author Notes: About twenty years ago, my great grand aunt Buba passed away. A grand lady, married to a diplomat, she traveled the world and brought pieces of it back home. As it always happens, upon Buba's death, my other great grand aunts promptly redistributed her belongings, except for a tiny book on Sri Lankan cuisine, which lay forgotten, until someone recalled my love of cooking. I became a proud owner of "Ceylon Cookery", printed in 1968 and written by Chandra Dissanayake M. Sc., Principal of Ceylon School of Home Economics. Living in a tiny Balkan country, with no access to spices, coconuts, or exotic fruits and veggies, my chances of experiencing Sri Lankan cooking were close to none. And although I could only imagine the dishes, I absolutely loved the book! It must have been an omen -- not that I believe in omens, but they tend to work regardless of my beliefs. A couple of years later I moved to the US and met a guy from, well you might be guessing, I met a guy from Sri Lanka. A year later we were married. A year later, I got to visit Sri Lanka, the magical country of teas, spices, and jewels, and one of the most unusual, most enchanting, and least known Asian cuisines. And I have been hooked ever since. I became addicted to their complex use of spices; the roasting and tempering that create aromas one rarely finds anywhere else. And since Sri Lankan cooks are notoriously bad in writing down their dishes -- they do not follow recipes, they do not remember recipes -- I became addicted to recreating them on my own. This one is among my favorites. - QueenSashy
Food52 Review: The perfume of toasted spices and coconut in this recipe is an alluring introduction to Sri Lankan cuisine. Make the cashew paste the night before, and whisk this dish onto the table in the time it takes to cook a pot of rice. Fry the chicken gently and stir the remaining cashew paste into the simmering coconut milk to reap the fullest flavor. Next time I'll boost the heat with more chilis and ginger. I'd also like a scattering of bright cilantro or mint, toasted cashews for texture, and a side of citrusy greens to balance the rich sauce. - Melissa@HomeBaked
Serves 4
1/2

teaspoon ground cumin

1/2

teaspoon ground coriander

1/2

teaspoon ground fenugreek seeds

1/2

teaspoon ground fennel

1/4

teaspoon ground cloves

1/4

teaspoon ground cinnamon

1/4

teaspoon ground cardamom

1/2

teaspoon chili powder or ground chilies (this is to get you started; a Sri Lankan cook will probably use four times as much)

3

tablespoons vegetable oil

1

small shallot (about 1 ounce), finely minced

2

garlic cloves, crushed

3

ounces raw cashew nuts

1

tablespoon unsweetened desiccated coconut

1

teaspoon grated ginger

1

tablespoon double-concentrated tomato paste

Salt

2

cups plus 3 tablespoons coconut milk, divided

1

pound boneless and skinless chicken thighs, each tight cut in half
In a small bowl, mix the cumin, coriander, fenugreek, fennel, cloves, cinnamon and cardamom. Place a small sauté pan over medium-high heat. Add one tablespoon of oil and shallots and sauté until the shallots become soft and yellow. Add the garlic, sauté for another minute, and then add the spice mix. Continue to cook for another minute or two, until the spices become very fragrant. Remove the spice mixture from the heat and let it cool.
In a food processor, process the cashews until powdery. Add the spice mixture, coconut, ginger, chili, tomato paste, a pinch of salt, three tablespoons of coconut milk and four tablespoons of water, and pure into a fine paste. Thoroughly coat the chicken with the paste and let it rest for about four hours, or up to a day, in the fridge. (And if you are in a hurry, forget the resting; it will not be the end of the world.)
In a large sauté pan over medium heat, heat the remaining oil. Place the chicken pieces in the pan and brown them gently, about four minutes per side. Pour out the excess oil. Reduce the heat to medium low, pour the coconut milk into the pan, deglaze, and bring the coconut milk slowly to a boil. Adjust saltiness if needed and continue to simmer uncovered, for another 20 minutes or so, until the sauce has reduced to thick gravy. Serve with steamed rice, dosa, or roti (another wonderful Sri Lankan dish).
Jump to

Comments

(

20

)