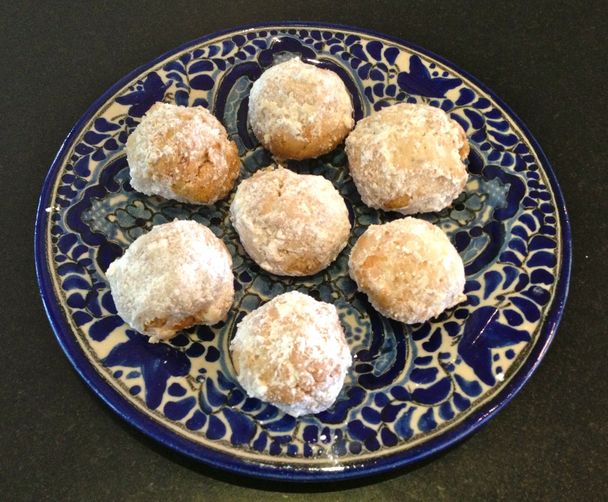 Author Notes: After reading about the origins of other Food52er's cookie recipes it appears that we have a "momfest" going here. This is my mother's cookie recipe which I know she got from her own mother who loved to bake. My mother called them Russian Tea Cakes. I have tasted very similar cookies called Mexican Wedding Cookies. Whatever the original designation, I am naming them Snowball Cookies. They look like little snowballs. (And we just got an unheard of snow storm in the hills of the Napa valley). - dymnyno
Makes 3 dozen cookies
1 cup butter

1/2 cup granulated sugar

1 teaspoon vanilla

2 cups flour

1/2 teaspoon salt

1 1/2 cups ground walnuts

about 2 cups powdered sugar for rolling the balls
Whip up the butter and add the sugar, whipping until it becomes fluffy. Then add the vanilla.
Add the dry ingredients into the vanilla, butter and sugar mixture.
In a food processor, pulse the walnuts pretty fine.
Mix the walnuts into the dough.
Using your hands , roll the cookie dough into little balls about 1 1/2 in diameter.
Chill for about 10 min.
Then bake in a 325 degree oven for about 30 minutes. Watch to make sure the bottoms don't burn.
Immediately after removing from the oven, roll the balls in powdered sugar, completely coating them.
Cool, then sprinkle more powdered sugar on them and shake off the excess..