Goat Milk Basil Ice Cream with Balsamic Strawberries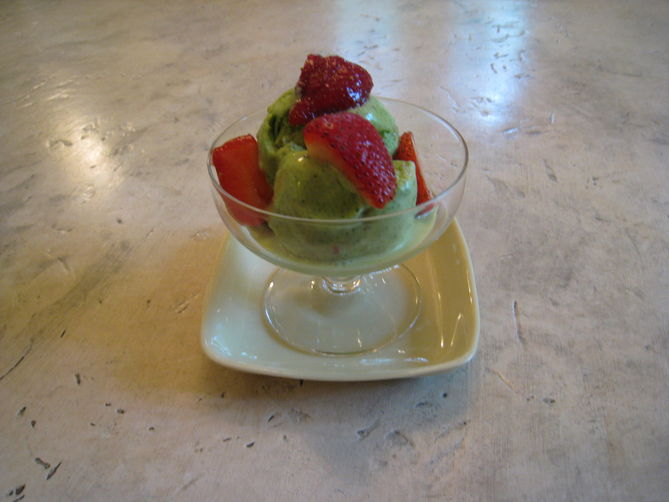 Author Notes: Adapted from Goat Milk Basil Gelato with Balsamic Marinated Strawberries by Taj Farms.
This recipe and samples were handed out many years during a goat milking demonstration outside of a book store in downtown La Jolla, California. Go figure! I was dubious but loved the combination of flavors and have served this any number of times to guests, who always have trouble identifying the ingredients. I wanted the "gelato" to be more "goat forward" so added goat cheese and reduced the number of eggs, which in my view, converted this from a gelato to an ice cream. I substituted white balsamic for dark and reduced the sugar for the strawberries so as not to make this too cloying. - Diapotpie
Makes 8 or so dessert servings
Goat milk, heavy cream, gray salt, caster (superfine) sugar, vanilla bean, egg yolks, goat cheese and basil leaves
1 and 1/2

cup goat milk (available at Whole Foods)

1 and 1/2

cup heavy cream

1

pinch gray salt

1

vanilla bean

5 large

egg yolks

2-4

cups basil leaves, measured as you would for pesto

4-5

ounces soft goat cheese

3/4

cups caster (superfine) sugar
Bring the milk, cream, salt, sugar and vanilla bean to a boil over medium heat in a non-reactive saucepan, stirring occasionally to dissolve the sugar.
Slowly whisk 1/2 cup of the milk/cream mixture into the egg yolks.
Slowly add the tempered egg yolks back into the milk/cream mixture, stirring constantly and heat to 180 degrees until slightly thickened. Keep stirring!
Remove from heat and crumble in the goat cheese, stirring until melted.
Strain the mixture through a sieve into a bowl and set it over an ice water bath. Fish out the vanilla bean, split it length wise and scrape the seeds into the mixture. Allow mixture to cool completely.
Blanch the basil leaves in boiling salted water for a few seconds, then shock in an ice bath. Drain, wring dry in a tea towel and chop coarsely. [Note re: annoying 2-4 cup measurement above. Taste your basil! Hydroponic basil is very mild, hothouse basil is pretty mild, whereas basil grown in soil in the middle of a hot summer can be very strong. You may have to play with this to get the flavors that suit you. I used 3 cups of greenhouse grown basil this week, and it was fine.]
Put ice cream mixture and basil in your blender and wiz away until it turns light green. Strain again if the green specs trouble you (I do not do this).
Freeze according to instructions of your ice cream maker; pack into a freezer proof container and freeze. Remove from freezer at least 10 minutes before serving to soften. Serve with balsamic strawberries
Strawberries, white balsamic vinegar, caster (superfine) sugar, black pepper, gray salt.
6

tablespoons good quality white balsamic vinegar

Scant 1/3 to 1/2

cups caster sugar (taste your strawberries and don't make this too sweet)

1

pinch gray salt, to taste

to taste

freshly ground black pepper, to taste

2

cups strawberries, hulled and quartered or sliced
Combine vinegar, sugar, salt and pepper and mix well to incorporate. Let stand for at least 15 minutes.
When read to serve, stir vinegar mixture to incorporate and pour over strawberries. Toss gently until all are coated and juices run pink.
Jump to

Comments

(

0

)