Herb-Crusted Lamb with Marinated Chickpeas and Olive Croutons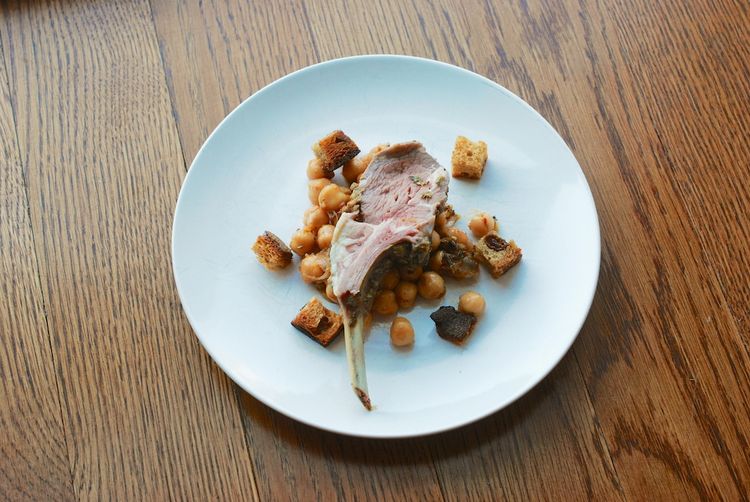 Author Notes: I devised this recipe for a recent dinner party I was cheffing for. I've made it several times since, because it is quite delicious! The flavors are bold and harmonious, and the texture is balanced and satisfying. You can do everything (except actually cooking the lamb) ahead of time, so it makes for an impressive, but relatively easy, dinner party presentation. Thank you again to the generous Hotline responders! (http://food52.com/hotline/20552-rack-of-lamb-recipe) - cristinasciarra
Serves 8
1 small red onion

1.5 tablespoon harissa

the juice and zest of 1 lemon

2.5 tablespoons fresh rosemary

2.5 tablespoons fresh thyme

3 cloves of garlic

kosher salt, black pepper

2 tablespoons olive oil

3 cans (42 ounces) chickpeas

-----------------------------------------------

1 small boule olive bread

olive oil

kosher salt, black pepper

-----------------------------------------------

1 rack of lamb

kosher salt, black pepper

6 garlic cloves

1/4 cup chopped mint

3 tablespoons fresh rosemary

3 tablespoons fresh thyme

zest of 1 lemon

3 tablespoons Dijon mustard

2 tablespoons olive oil
Prepare the chickpeas: Halve, and then thinly slice, the onion. Move the slices to a mixing bowl, along with the red wine vinegar; toss to coat. Add the harissa, and the lemon juice and zest to the bowl.
Mince the herbs, as well as the garlic. Add them to the mixing bowl, along with salt and pepper to taste, and the olive oil. After rinsing the can goop from the chickpeas, add them, too. Use a spoon to mix all the ingredients together.
Let the chickpeas sit for at least 1 hour, but preferably overnight.
-----------------------------------------------
Prepare the croutons: Cut the boule into 1-inch slices, and the slices into small cubes. In a large mixing bowl, toss the bread generously with olive oil, salt, and pepper.
Lay the cubes across a baking sheet, and then toast them in a 350F oven for about 8-10 minutes. (Start checking after 5 minutes.) You want the croutons to be golden and crunchy, but not hard as a rock. (You can keep the croutons in a sealed container for about 1 week.)
-----------------------------------------------
Sprinkle the lamb generously with salt and pepper. While you are making the herb paste, let the lamb sit out and absorb this seasoning.
Mince the garlic cloves. Finely chop all three fresh herbs. Zest the lemon. Add these to a medium mixing bowl, along with the Dijon mustard and the olive oil. Stir until you have a thick paste.
Rub the herb paste all over the lamb, especially around the bones and in any nooks and crannies. Wrap the lamb in plastic, and refrigerate for about 4 hours.
Take the lamb out of the fridge 1 hour before you'll cook it. Heat the oven to 450F.
In a wide frying pan, sear the lamb over high heat for about 3 minutes on the fatty side, and 1 minute on the other side. Then move the lamb to a roasting pan; insert a meat thermometer before placing the lamb into the oven. (The three times I've cooked this recipe, cooking time has varied depending on the size of the lamb. You want to take the meat out of the oven when it reaches 120F, anywhere from 15-25 minutes. The internal temperature will raise another 10-15 degrees out of the oven.) When the lamb reaches 120F, remove it from the oven, tent it with foil, and let it rest for 10 minutes, before slicing it into eight equal chops.
-----------------------------------------------
Scoop a tumble of chickpeas onto each plate, and then dot each with a small handful of the croutons. Lay a lamb chop on each plate, on top of the chickpeas. Drizzle some of the chickpea-marinade jus onto each lamb chop.
Jump to

Comments

(

2

)