6
Save
If you like it, save it!
Save and organize all of the stuff you love in one place.
Got it!
If you like something…
Click the heart, it's called favoriting. Favorite the stuff you like.
Got it!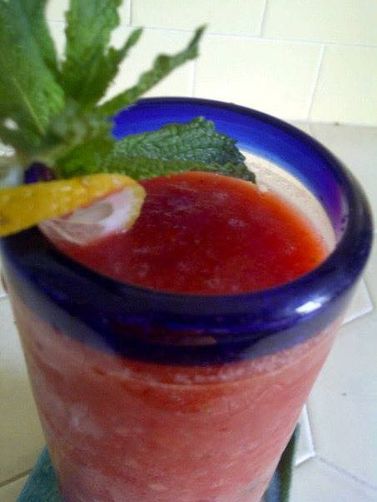 Author Notes: I developed this recipe while living in New York, a city renowned for its culinary diversity and creative mixologist. It is also famous for its hot and sticky summers, ripe with palpable humidity that drives natives and visitors alike to seek shelter in the nearest air-conditioned venue. Fortunately for its residents, summer in the city is as sweet as it is sticky, a saving grace for country girls like myself. Markets fill with seasonal fruits, vegetables and herbs, some of which have found their way into this summer-time cocktail. Inspired by watermelon infused vodka, this recipe uses a simple syrup infused with herbs, frozen fruit, and ice-cold vodka bound together with a twist of lemon. - nycnomad
Serves 6
Herbal Simple Syrup
1/4

cup Organic Sugar

1

Lemon (juice)

1

Rosemary sprig (fresh)

2

Mint sprigs (fresh)]['
Sweet Summer Breeze
1

Watermelon (small, seedless) or Half a regular watermelon (seeds removed)

1

pound Organic Strawberries

12

ounces Vodka (choose your favorite or substitute with the spirit of your choice)

Juice of 1/2 lemon

Fresh mint sprigs (garnish)
For the simple syrup, begin by placing the sugar in a small sauce pan. Pour in the juice of 1 whole lemon.
Add the mint and rosemary sprigs to the sugar and lemon mixture.
Place the pan over a low flame and heat until the sugar is completely dissolved. When the syrup begins to boil, remove it from the flame and set aside allowing the herbs to infuse the mixture with their flavor and aroma.
Cut the watermelon into cubes, removing the seeds if necessary, and place them in a large, shallow bowl.
Wash and hull the strawberries. Slice them in half and add to the watermelon.
Pour the vodka over the fruit and place in the freezer.
When the fruit has frozen completely, place it in a blender and mix until it has reached the consistency of a "frappe" (1 min max).
Add 2 tablespoons of the herbal syrup and the freshly squeezed juice from 1/2 a lemon to the blended fruit. Mix again for 10 seconds.
Repart the cocktail into chilled glasses and garnish with a fresh sprig of mint.
Find a comfortable chair. Kick off your shoes and enjoy!