Ricotta-Corn-Basil Crostini with Chopped Tomatoes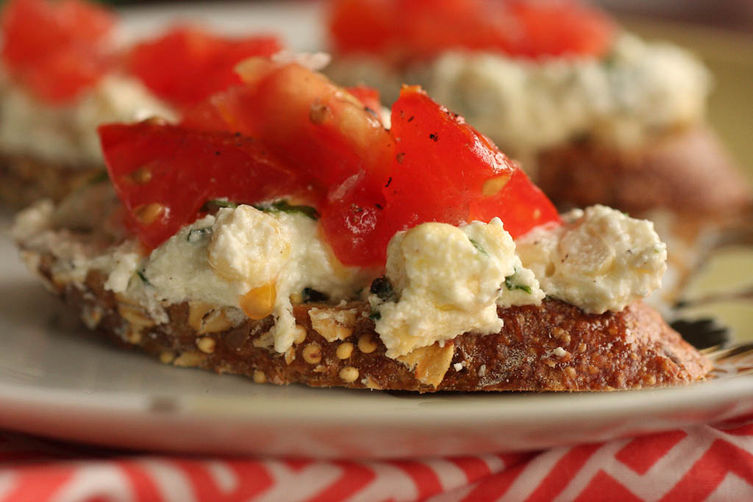 Author Notes: I made this a few years ago and somehow it got lost in the mental recipe archives. It popped up the other day while I was at the farmers market admiring the current offerings. Fresh ricotta combined with raw organic corn and thinly sliced basil, topped with chopped in season tomatoes -- it is summer in a bite (or two). - Modern Family Cooking - Nicole
Food52 Review: When I first read the recipe and saw there was no garlic in the list of ingredients, I wondered if I would want to add it the next time I made it. I didn't miss it at all! There was so much flavor in these simple crostini! They tasted like summer. The lemon, basil, corn and tomato were so good together along with the creamy ricotta. This recipe will make a comeback at my table. - Cheryl W. V.
Serves 20
2

cups fresh ricotta

2

ears of corn, kernels removed

1/2

cup thinly sliced basil

1

lemon zested

Maldon salt

Freshly ground black pepper

splashes Good olive oil

2

multigrain baguettes, thinly sliced

6

plum tomatoes, chopped
In a bowl mix together ricotta, corn, basil, lemon zest, 2 to 3 tablespoons of good olive oil, a few pinches Maldon, and freshly ground black pepper.
Douse tomatoes with good olive oil, salt, and pepper, and stir.
Spread a layer of the ricotta mixture onto each baguette slice. Top with tomatoes a pinch of Maldon salt, and freshly ground pepper.
Jump to

Comments

(

4

)