Pueblo Bean and Rice Casserole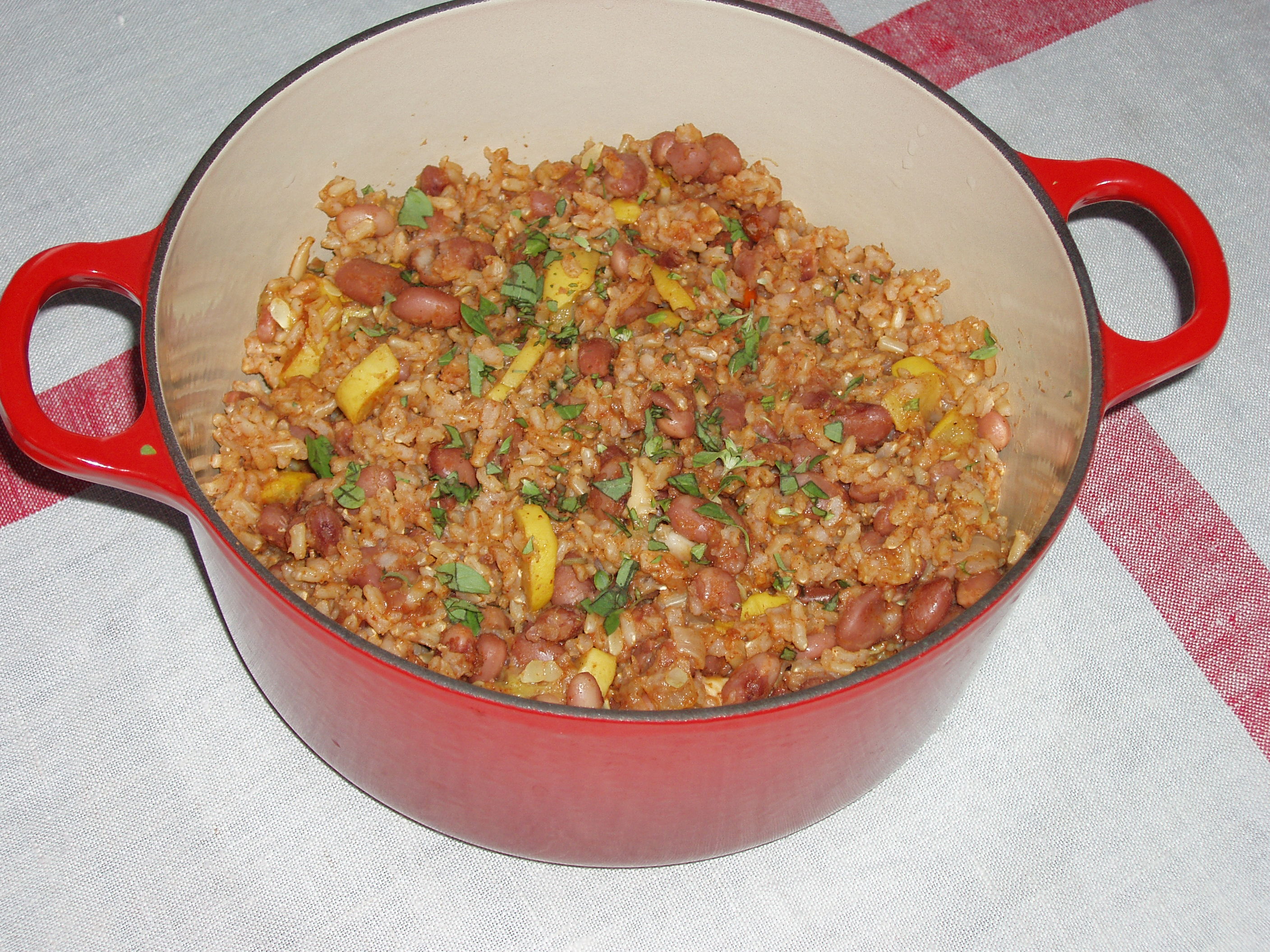 Author Notes: This is an easy dish for a lazy day around the house without too much effort. And does it get any cheaper than rice & beans? This is delicious served with avocado slices on corn tortillas. - nannydeb
Serves 6
1

cup dry Anasazi beans

about 3

cups water

1

tablespoon canola oil

1/2

cup onion, diced

2

cloves garlic, minced

4

fresh chili pequin peppers

2

tablespoons New Mexico chili powder

1

cup uncooked brown rice

3

cups summer squash, chopped in 1 inch pieces

2

tablespoons chopped fresh oregano

salt & pepper to taste

avocado slices, optional

homemade salsa, optional

corn tortillas
Cover beans with about two inches of water and let them soak overnight. Or you can do the quick soak - boil, turn off heat and let them sit with the lid on for an hour. Drain, cover with fresh water, boil hard for 10 min, skim off any scum, then simmer for an hour and a half or until done.
Heat the canola oil in a cast iron dutch oven over medium high heat. Add the onion and garlic and cook 2-3 minutes or so. Drain beans and add them to the pot with about three cups fresh water and the chili pequins.
Cook beans, uncovered over low heat for 1-1 1/2 hours or until soft. The beans do not have to be completely cooked since you'll be cooking them a little longer in the oven.
Preheat oven to 375 degrees.
Drain beans, reserving liquid and put beans back in the pot. Add enough water to the reserved liquid to make up 2 1/2 cups and add to the beans.
Add chili powder, brown rice and chopped squash to the beans.
Cover and bake in the oven for one hour.
Fluff with a fork and stir in chopped oregano and salt & pepper to taste.
Serve with hot fresh corn tortillas, homemade salsa and sliced avocado.
Jump to

Comments

(

4

)
Tags: Easy