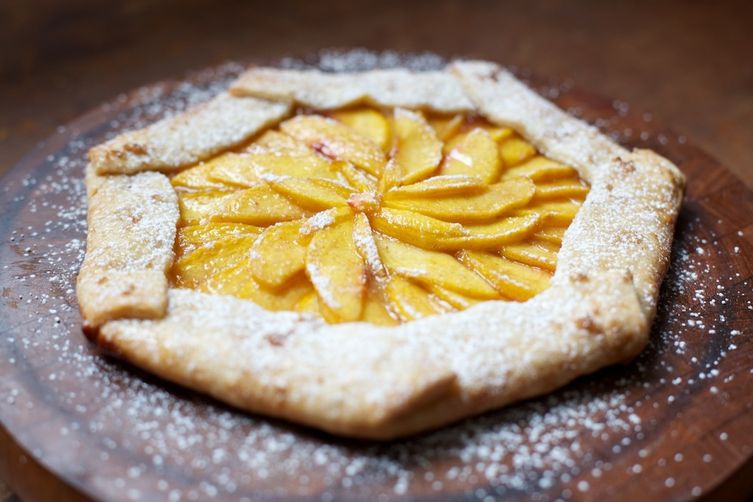 Author Notes: Spiced and lemony sweet peaches are hugged by a flakey coconut crust to create this mouth watering vegan galette. - Kalie Andres
Serves 8
Crust Ingredients:
1 1/4

cup All purpose flour

1

tablespoon White sugar

1/4

teaspoon Salt

1/2

cup Chilled coconut oil

1/4

cup Ice cold water
Filling Ingredients:
1 1/2

cup Peaches, peeled and sliced

2

tablespoons White sugar

1/8

teaspoon Ground cinnamon

1/8 tsp

teaspoon Nutmeg

1/2

tablespoon All purpose flour

1/4

teaspoon Vanilla extract

1/2

teaspoon Lemon Juice

1/2

teaspoon Lemon zest

1

tablespoon Brown sugar

2

tablespoons Maple syrup for brushing
CRUST PROCEDURE:
In a large bowl mix together the flour, sugar, and salt
Add the chilled coconut oil to the flour mixture and with a fork or pastry cutter cut the coconut oil into the mixture so it is evenly distributed throughout the mixture.
Add the ice water to the dough mixture and mix it until it begins to come together. Be careful not to overmix or the coconut oil will begin to melt making the dough to soft
Form the dough into a ball and flatten it into a 2-inch thick disc and place in the fridge to chill for 20 minutes. Do not overchill or the dough will become very hard.
FILLING PROCEDURE:
Peel and slice the peaches into approx ?-inch thick slices and set aside in a bowl.
Add the white sugar, cinnamon, nutmeg, flour, vanilla extract, lemon juice, and lemon lemon zest to the sliced peaches and gently toss to evenly coat the peaches and set aside. Reserve the brown sugar for later.
GALETTE ASSEMBLY:
Remove the chilled dough disc from the fridge and place it between two pieces of parchment paper. With a rolling pin roll it into a 9-inch round and ?-inch thick. Use a 9-inch pie tin or cake pan to cut a perfect circle.
Sprinkle the middle of the rolled out dough with brown sugar leaving the outer 3-inches of the edge without sugar.
Place the peach slices in a fan starting from the outside inward, leaving 3-inches of the edge empty.
Make at least five 2-inch deep slices evenly spaced around the galette dough.
One by one fold the 2-inch borders of dough in towards the center of the galette. When you get to folding in the last piece make sure to tuck the corner in so each corner overlaps one another.
Brush the galette with maple syrup to make it shine.
Place the galette in the fridge for 10 minutes to chill before baking.
Preheat the oven to 375 degrees as the galette chills in the fridge.
Remove the galette from the fridge and bake in a 375 degree oven for approx 60 minutes or until the crust is golden brown and the peaches are cooked through.
Remove from the oven and let it sit for a few minutes before serving.
Dust with powdered sugar and Enjoy!
Jump to

Comments

(

0

)