Apple Mashed Potatoes with Caramelized Onion Cider Gravy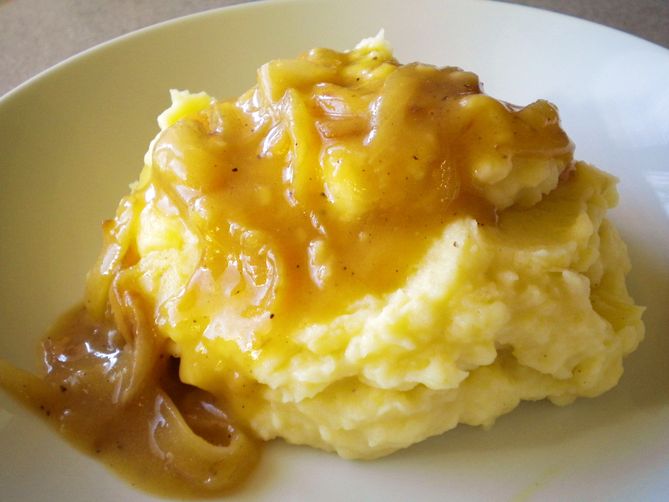 Author Notes: Apples and apple cider add a wonderful sweetness to simple mashed potatoes. Wonderful with a pork roast or chops! - inpatskitchen
Serves 4 to 6
For the Potatoes
4 1/2

cups peeled and cubed Yukon Gold potatoes (one inch cubes)

1

large Granny Smith apple, peeled, cored and cut into one inch cubes

Water

1

cup apple cider

3

tablespoons butter

1/2

cup half and half

5 or 6

gratings of nutmeg

Salt and white pepper to taste
Place the cubed apple and potatoes in a 4 quart pot, cover with water and add the cup of apple cider. Bring to a boil and simmer until the potatoes are fork tender.
Drain the apples and potatoes and then start mashing or ricing. Add the butter and half and half and keep mashing until the mixture is smooth. Stir in the nutmeg and add salt and white pepper to your taste.
For the Gravy
3

tablespoons butter

1

large sweet onion, quartered and then thinly sliced

1

teaspoon granulated sugar

2

sprigs fresh thyme

3

tablespoons all purpose flour

1

cup apple cider

1

cup chicken broth

1

teaspoon salt

1/2

teaspoon black pepper
In a large saute pan, melt the butter and add the sliced onions, sugar and thyme. Saute on low heat until the onions turn golden. This might take about 20 minutes. Stir the mixture around a bit while you do this.
After the onions have caramelized, fish out the thyme sprigs and stir in the flour. Continue to saute for another minute or two in order to incorporate the flour.
Stir in the cider, chicken broth, salt and pepper. Bring up to a simmer and simmer until thickened. Serve the gravy over the apple mashed potatoes.
Jump to

Comments

(

3

)