Mrs. Owen's Luxe Cream-cheese Ice-Cream Cake
14
Save
If you like it, save it!
Save and organize all of the stuff you love in one place.
Got it!
If you like something…
Click the heart, it's called favoriting. Favorite the stuff you like.
Got it!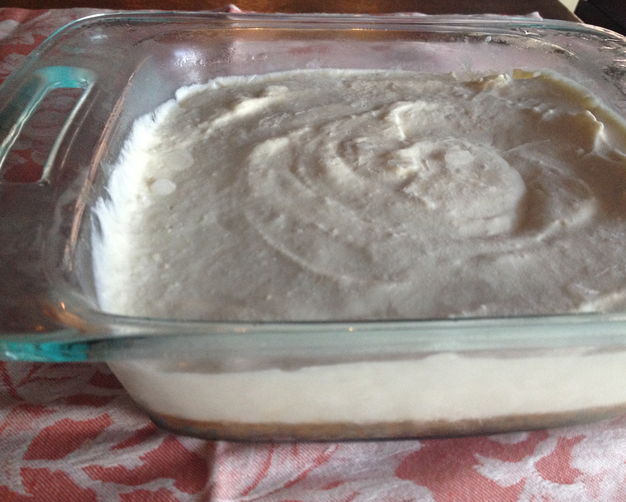 Author Notes: As a child, I would beg my mother to make her "ice cream cake." You make a ridiculously simple faux ice-cream base of cream cheese, sugar and egg yolks, gently fold in billows of whipped cream and beaten egg white, and freeze it over a graham-cracker crust for a luxuriously smooth and rich treat. I hadn't had it in, uh, a few decades, but never forgot it. Recently I unearthed the recipe: the cake is just luscious as ever. I reduced the sugar somewhat to appeal to adult tastes, and made a added a touch of crème fraîche (the original calls for all 8 ounces of cream cheese in place of the blend of the two). You could garnish this with raspberries, or crystallized ginger or even pretzels, but it is scrumptious served perfectly plain, allowing the tang of the cream cheese to shine. The crumb crust is adapted from The Joy of Cooking, 25th printing. I reduced the confectioner's sugar and left out the (optional) cinnamon. Note: this recipe includes raw eggs. - creamtea
Serves 8-10 or more--it's rich
For the Crust
1-1/2

cups honey-type graham-cracker crumbs (about 8-1/2 panes of graham crackers), coarsely crushed in a sturdy ziplock bag (leave the zipper open about 2 inches to allow air to escape, then crush crackers with a rolling pin)

6

tablespoons unsalted butter, melted and cooled slightly

2

tablespoons sifted confectioners' sugar
Lightly grease an 8-inch square Pyrex pan. Place coarsely crushed cracker crumbs in a blender or food processor and process until finely ground. Re-measure to make sure you have 1-1/2 cups of crumbs.
Add confectioner's sugar to container with crumbs and process until combined, then drizzle in butter and process further until combined. Empty into pan (reserve some crumbs for decorating the top of the cake, if desired).
Pat crumbs into pan, tamping down edges. You can press the bottom of a metal measuring cup over the crust to smooth it further.
For the filling
5

ounces cream cheese

3

ounces crème fraîche

3

large eggs, separated

3/4

cup granulated sugar

1

cup heavy cream

1

teaspoon pure vanilla extract

pinch salt (optional) for beating egg whites
In a large bowl, combine cream cheese, crème fraîche, egg yolks and sugar until well blended.
In a chilled bowl with chilled beaters and hand-held mixer, whip cream just until stiff peaks form. Set aside. At this point you can use the beaters to beat the cream cheese mixture for a few seconds to smooth it and incorporate some air.
In a clean bowl with clean beaters, beat egg whites with salt (if desired) just until stiff peaks form. Scrape egg whites and whipped cream into the bowl with the cream cheese. Gently fold with a rubber or silicone spatula until combined but still billowy.
Scrape cream mixture into crumb crust. Swirl decoratively with spatula. Stretch plastic wrap carefully over cake to avoid having it touch the filling (affix it firmly to far end of pan, stretch tightly up and over, then seal on near side and lateral sides). Cover plastic tightly with a sheet of aluminum foil, then place in freezer several hours or overnight.
Remove from freezer a few minutes before serving to soften slightly. Garnish with reserved graham crumbs, cut into squares with a sharp knife and serve.