Tomato Eggplant Curry with Chili & Lime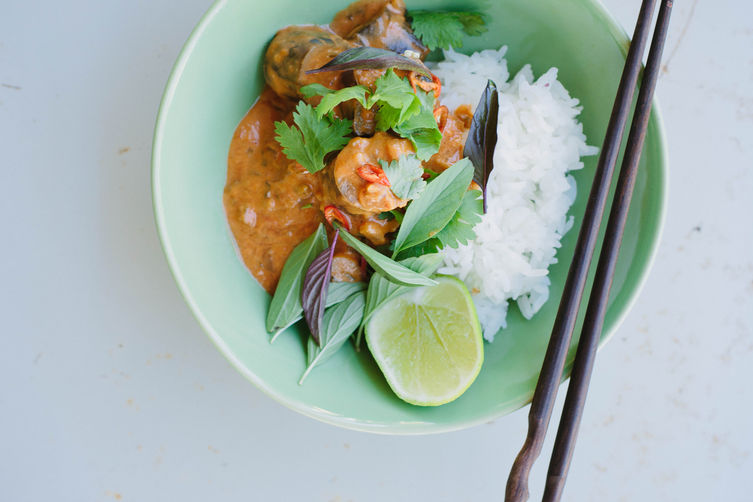 Author Notes: A lovely simple, flavorful curry full of South-East Asian flavors.
I don't normally salt large eggplants as I find most varieties nowadays aren't too bitter. However I find the smaller Asian varieties are still very bitter and do still require that extra salting step to eliminate the bitter aftertaste. To make sure I always have the base curry ingredients at hand I have bags of long red chillis, kaffir lime leaves and grated ginger all ready to go in bags in my freezer. And as always please make sure you read over the ingredients listed on the back of your coconut milk tin, it should only read coconut and water. That's it. - Emma Galloway | My Darling Lemon Thyme
Serves 4-6
Tomato Paste
500g

small long Asian eggplants, sliced into 1 1/2cm rounds

1

tablespoon grapeseed oil

4

spring onions (scallions)

1

clove garlic

2

tablespoons finely grated ginger

1

serrano chili

5

small tomatoes, peeled + finely chopped*

2

tablespoons coconut or dark palm sugar

2

tablespoons tomato paste

1/2

teaspoon fine sea salt
Curry sauce
2

tablespoons grapeseed oil

1

medium red onion, finely sliced

1 x 400

milliliter can coconut milk

1

serrano chilli, thinly sliced

1/2

cup roughly chopped coriander (cilantro)

4

kaffir lime leaves, stem removed + finely shredded

1

tablespoon gluten-free soy sauce

1

lime, finely grated zest + juice

sea salt + freshly ground black pepper

steamed jasmine rice + fresh herbs, to serve
First up lay the eggplant slices out onto a tray in a single layer. Sprinkle with a little salt and set aside for 30 minutes. Rinse off salt and pat eggplant slices dry with a clean tea towel or paper towel. To make the tomato paste heat oil in a medium saucepan over medium heat. Add spring onion, garlic, ginger and chilli and cook, stirring often 3-4 minutes or until tender. Add chopped tomatoes, sugar, tomato paste and salt and continue to cook for a further 6-8 minutes or until the tomatoes are pulpy. Remove from the heat and puree with a stick blender to a fine paste.
Wash out the saucepan quickly and return to the heat over medium. Add the oil for the curry sauce, when hot add the eggplant (aubergine) slices and red onion and cook, stirring often for 8-10 minutes or until the eggplant is starting to soften. Add the coconut milk, prepared tomato paste, sliced chilli, chopped coriander (cilantro), kaffir lime leaves, soy sauce, lime zest + juice. Reduce heat to a simmer and cook for 15-20 minutes or until the eggplant is meltingly tender. Add a touch of water at any stage if the sauce is thickening up too much. Taste and adjust seasoning, adding more salt/pepper, chilli, lime juice or sugar if needed to get the right balance of flavours. Serve hot over jasmine rice, scattered with coriander leaves, Thai basil, sliced chilli and a wedge of lime to squeeze.
*To skin tomatoes; remove the hard core at one end and make a cross slit with a sharp knife on the other round end. Submerge into boiling water for 30-45 seconds, remove and run under cold water. The skins should now slip off easily.
Jump to

Comments

(

0

)