The Perfect Pot of Lentils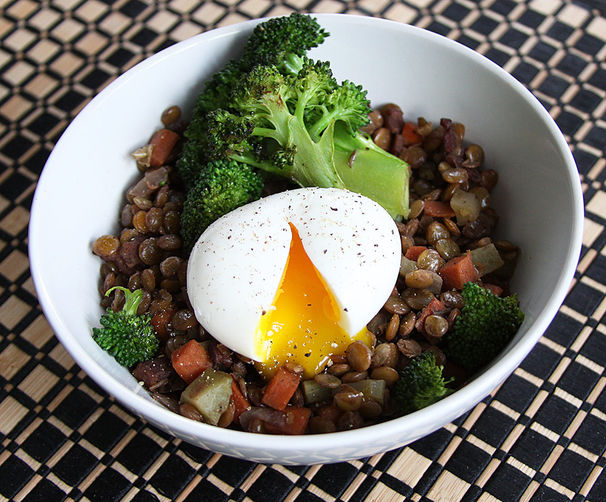 Author Notes: A bowl of lentils, something green, and an egg is my go to comfort food. It is quick (even at high altitude), easy, and I usually have everything on hand. It is great as is and I have often turned the leftovers into burgers the following day. Despite having cooked this dish dozens of times, I have never had an actual recipe and decided to write it down. - savorthis
Serves 4
4

eggs (optional)

3

bacon slices, thinly sliced

1

small head broccoli (or bunch of hearty greens), stems diced, florets cut into medium pieces

1/2

cup carrots, small dice

1/2

cup shallots, small dice (onion works too)

1

garlic clove, minced

1/2

cup red wine

1/2

cup tangerine/clementine/orange juice

2

cups chicken broth

1

bay leaf

1

cup lentils, rinsed and picked through
If using eggs, fill a medium pot with 1/2 inch of water and bring to a boil. Gently add eggs, cover and steam at a gentle simmer for 6 1/2 minutes. Have ice water ready. When done, place eggs in ice water, empty pot and return to medium heat. Peel the eggs and keep them in a bowl of warm water.
Brown bacon and remove to a bowl with all but 1T fat. If you wish, you can brown broccoli florets in fat briefly, then set aside (I really love a toasted broccoli). If not, you can add the broccoli in at the end. Pour a touch more fat from the bacon into the pot to cook the carrots and shallot until beginning to soften. Add garlic and cook for another minute.
Add wine and orange juice and cook until almost completely evaporated. Add lentils, broth and bay leaf, bring to a boil, then simmer gently. At high altitude, it often takes about 45 minutes for lentils to cook, but it might be only 20-30 minutes for you. Check after about 15 minutes to see where you are. Add the broccoli stems and florets (or greens) when the broth is almost completely absorbed to steam for about 5 minutes. If the lentils are still crunchy but the liquid is gone, add a bit of water.
Season to taste with salt and pepper. Dish up a hearty scoop of lentils and top with an egg. Serve with some fabulous buttered toast.
Jump to

Comments

(

4

)