Maple Curry Chicken with Kale
4
Save
If you like it, save it!
Save and organize all of the stuff you love in one place.
Got it!
If you like something…
Click the heart, it's called favoriting. Favorite the stuff you like.
Got it!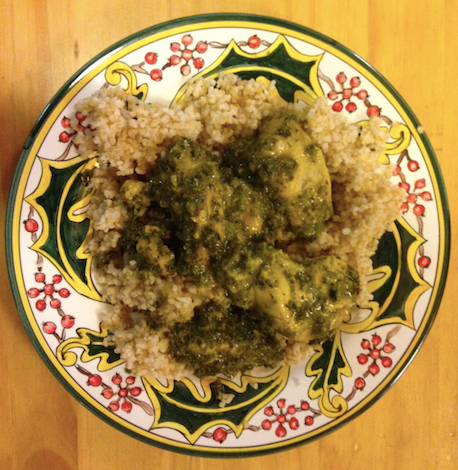 Author Notes: Ever since my husband tapped a dozen sugar maple trees in our backyard, maple products have become the exclusive sweeteners used in my kitchen (besides local honey, of course).

This complete meal has a sweet and spicy sauce that does not hide the kale.

Instead of kale, try chopped spinach or chard. - purduetina
Serves 4
4

boneless, skinless chicken breasts cut into pieces, or left whole

1/3

cup melted salted butter (optional) If omitting, be sure to grease baking dish somehow

1/2

cup maple syrup, grade B, dark. You want a lot of maple terroir.

1/4

cup dijon mustard

3-4

teaspoons curry powder to taste

1

cup OPTIONAL finely chopped kale (or spinach or chard)

1

cup bulgur wheat

2

cups water

1/2

teaspoon salt
Prepare the sauce. Whisk melted butter, maple syrup, mustard and curry powder together in a medium, baking dish. Add kale (or other greens) and chicken pieces. Be sure each piece of chicken is covered with sauce (especially if using whole chicken breasts).
Bake in 375F oven for 25 minutes, covered. (If using whole chicken breasts, turn them over and baste with sauce). The greens will release some water as the cook, and the sauce may appear thin. Bake for another 20 minutes, uncovered. The sauce will thicken a little bit.
Prepare bulgur. Bring water to boil in a medium saucepan. Add bulgur wheat and let simmer over low heat for about 15 minutes, covered.