Saffron Risotto with Porcini Mushrooms and Sausage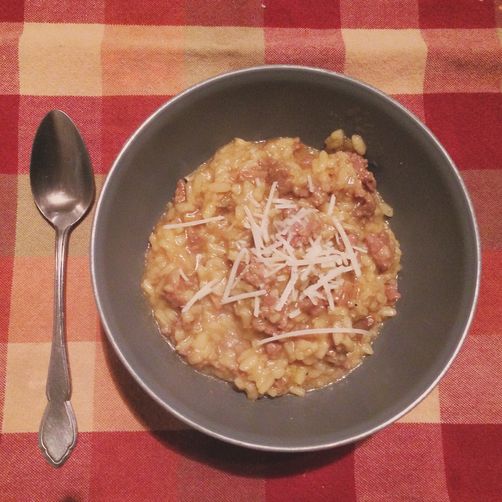 Author Notes: This is the risotto that my father makes in the dead of winter, and only then. He'll usually come home from work early to start making it, and by the time everyone is home, there's a big pot of it on the stove just waiting to be devoured. The dish is eaten with only two accompaniments--a pinch of freshly grated parmesan, and a large glass of wine--both of which are mandatory. - kschurms
Serves 4
1

large shallot, finely diced

1/2

pound Italian sausage, casings removed

1

ounce dried porcini mushrooms, reconstituted and chopped

1

cup Aborio rice

1/2

cup dry white wine

4

cups chicken stock

A large pinch of saffron

Freshly grated parmesan (for garnish)

Salt and pepper (to taste)

2

tablespoons olive oil

1

tablespoon butter
Heat the oil and butter in a dutch oven over a medium flame. Add the shallots and cook until slightly translucent, about 2 minutes. Add the sausage, and cook until browned thoroughly. Then, add in the mushrooms and cook until all the ingredients are incorporated.
Turn the heat up to medium high, and pour in the aborio rice (this toasts it a bit). After the rice is toasted, stir in the wine. Allow the wine to reduce for 5-10 minutes.
Turn the heat down to medium low, add in 1 cup of the stock, and cover. Keep checking and stirring periodically, making sure that nothing sticks to the bottom of the pot. When there is very little liquid left, and bubbles appear around the top, add in another cup of the stock and stir. Repeat this process until there is no stock left.
After pouring in the last cup of stock, add the saffron, as well as salt and pepper to taste. Keep in mind that the parmesan will add some salt as well. Once there is a very little amount of liquid left, taste the risotto. If the rice doesn't stick to your teeth, then it's done. Serve it in bowls, with some fresh parmesan grated on top.
Jump to

Comments

(

0

)