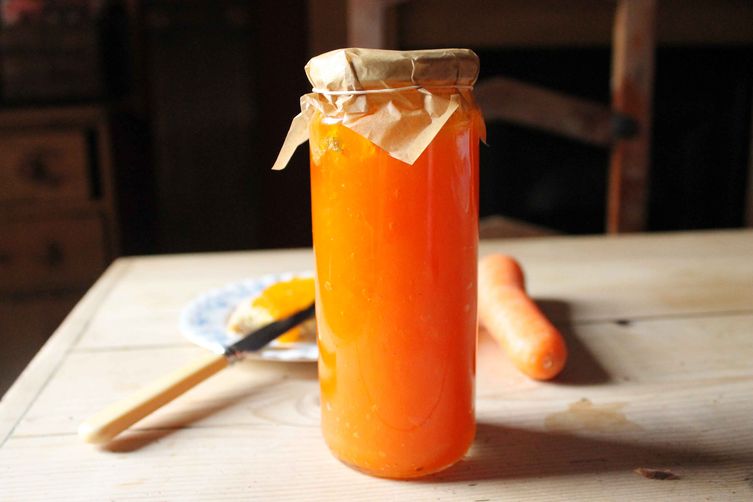 Author Notes: This jam recipe my version of the carrot jam in 'Mrs Beeton's Book of Household Management', written in 1865. Oddly it doesn't taste of carrots at all - but is just like apricot jam! How bizarre. Also, it is fluorescent orange. Like 1990s rave jam. Or that hypercolor t-shirt you wore for the first day in seventh grade. Perfect on scones, in thumbprint cookies or spread on your toast for breakfast. The easiest way to sterilize the jars is to run them through the dishwasher on the hot cycle. - Kate | Veggie Desserts
Makes 2-3 jars
26

ounces carrots

2 1/3

cups granulated sugar

zest of 1 lemon

juice of 2 lemons
Peel and grate a carrot to total 2 oz grated. Set aside.
Peel and chop the remaining carrots into rounds. Put in a saucepan and add enough water to just cover them. Cook until soft, drain and puree. Put the pureed carrots into a fine sieve and push out any excess water.
Weigh out 14 oz of pureed carrot and discard the rest. Put the puree and the grated carrot into a large saucepan. Add the granulated sugar and bring to the boil for five minutes, stirring constantly. Skim off any froth with a spoon and discard.
Allow the jam to cool and then stir in the lemon zest and juice. Pour into sterilized, lidded, jars and refrigerate.
Jump to

Comments

(

2

)