A Soulful Bowl-Full (Smoky Chicken and Barley Congee)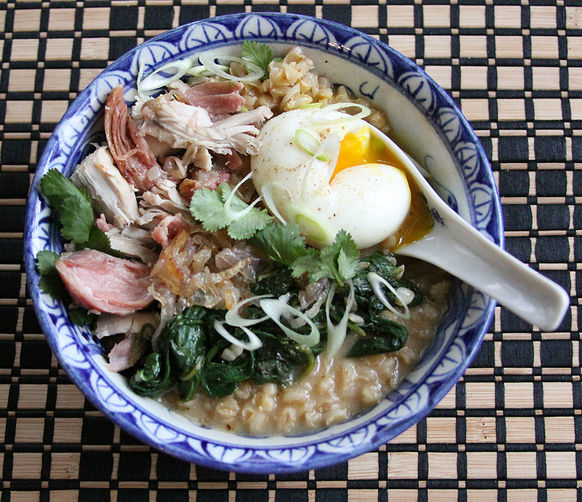 Author Notes: I love the soulful satisfaction of a great bowl of porridge. Whether it's chicken or fish, a long process with homemade stock or a simplified version using pre-made ingredients, it is customizable and delicious. While I often make mine with white rice, I wanted to try a whole-grain version; I first tried an unhulled barley I had on hand. I cooked and cooked and cooked it and it never quite got creamy enough. It was delicious, just not porridge-y. So this time I chose a pearled barley and got it to a point where it had just a slight bit of chew and a wonderful, silky sauce.

I chose to make my own broth this time around, which I did the day before I made the porridge. The rest came together pretty quickly. You can certainly use canned stock (I imagine dashi would be a great option), or even pick the meat and simmer the bones of a rotisserie chicken, which adds a nice roasted flavor to the broth. I also added a couple smoked turkey tails that I had found at the Asian grocery store -- they are delicious and ham-like in flavor. I assume they are not that easy to come by, though, so you could use a smoked ham hock instead.

Toppings-wise, you can add just about anything, but I love the sweetness of caramelized shallots, some sesame-garlic spinach, and, of course, a soft-cooked egg. - savorthis
Food52 Review: This creative cook's switch from rice to the more nutritious barley is inspired. Even though I did not have time to shop for smoked turkey tails, I found some exceptionally meaty ham hocks, which lent a satisfying smokiness to this multi-dimensional dish. Best of all, this tasty and inventive congee can be eaten for any meal of the day, as it allows for a range of nutritious accompaniments and a rich combination of crunchy, sweet, sour, and savory ingredients. You need never be bored with the leftovers when you have this option. Kudos! - Tedsdottir
Serves 6 to 8
Chicken Broth
1

whole chicken, about 3 to 4 pounds

1

onion, sliced

1

fennel stalk (I keep them in the freezer after using the bulb for another recipe)

One

2-inch nub ginger, peeled and sliced

2

green onions, green and white parts, cut into 2-inch pieces

1/4

cup dry sherry

14

ounces smoked turkey tail or ham hock

10

cups water

1/2

teaspoon salt
Cut chicken into 8 pieces and add them to the pot with the remaining ingredients. Bring to a boil, skim the foam, reduce to a simmer, and cook until the breasts are just cooked through, about 20 to 30 minutes. Remove the breasts and continue to cook the broth for 1 1/2 hours, until deeply flavorful. Meanwhile, remove the breast meat and return the bones to the pot. Strain the broth, reserving the turkey tails or ham hock. Pick and shred the meat, then add it to the breast meat and set aside.
Porridge
6

cups broth

4

cups water

1 1/2

cup pearled barley

2

tablespoons soy sauce or tamari

3

shallots, thinly sliced (about a cup)

4

tablespoons butter

2

garlic cloves, minced

6

ounces spinach

1

tablespoon sesame oil

1

tablespoon black rice vinegar

Soft-boiled eggs (see note below)

Cilantro and green onion, for garnish
If you are using canned broth, simmer it with some ginger, sherry, and green onion until you can taste the ginger. Combine broth, water, barley, and soy sauce (or tamati) in a large pot. Bring to a boil, skimming any foam, then simmer for about 2 hours until thick and creamy. Stir often to help break up the starches. It might go faster for you; I made mine at a high altitude.
Melt the butter in a pan and slowly brown the shallots with a pinch of salt until they are a deep golden color. Heat the sesame oil and cook the spinach and garlic with another pinch of salt until the spinach is wilted. Remove from heat and stir in the vinegar.
To serve, ladle the porridge into a bowl and top with shredded chicken, turkey tail (or ham hock), spinach, shallots, an egg, and a sprinkling of green onion and cilantro. This is also delicious with some chili sauce, though beware: It can be quite salty.
Note: My latest chosen method for soft-cooked eggs came from Cooks Illustrated. Bring about half an inch of water to a boil in a pot. Gently add eggs, reduce the heat to a slight simmer, cover, and cook for 6 1/2 minutes. Run eggs under cold water to stop cooking, then keep warm in a bowl of warm water.
Jump to

Comments

(

4

)